Angel Food Cupcakes with Strawberry Mascarpone Frosting
After all the meat that was consumed on Game of Thrones night, I thought we might want a light dessert to follow. In comes these angel food cupcakes— so much lighter, fluffier, and tastier than anything you can buy at the grocery store. No spongey cake here. These cupcakes are great when you want an angel food cake, but don't have the right pan. They taste just the same and are super easy to make, too.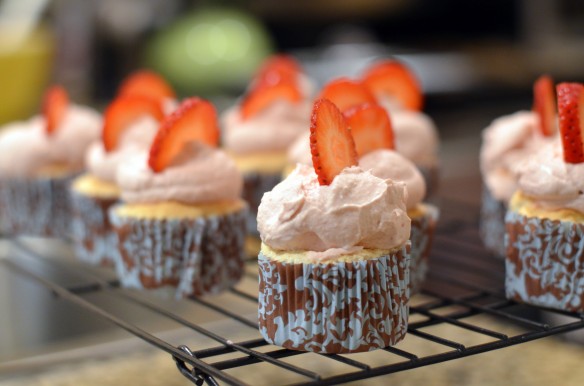 Topped off with strawberry mascarpone frosting and a few slices of fresh strawberries, I dare you to try to eat just one. All of us at the table on Sunday failed, and that was after stuffing ourselves with ribs and potatoes.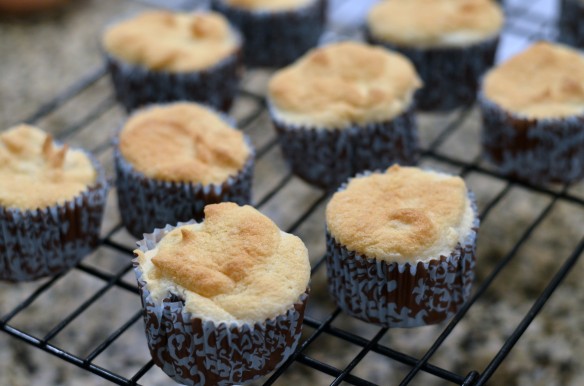 These cupcakes taste like little slices of summery heaven, so it's hard to be sad while eating one (even if it is cloudy and in the 40s when you are eating them).
Angel Food Cupcakes
yields approximately 14 cupcakes
Cupcakes
1/2 cup + 2 tablespoon cake flour
3/4 cup granulated sugar, pulsed in the food processor for several minutes until very fine, divided
1/8 teaspoon salt
6 egg whites, room temperature
3/4 teaspoon cream of tartar
1/2 teaspoon vanilla extract
1/2 teaspoon almond extract
Preheat the oven to 350° and line cupcake pans with liners.
Sift together flour, approximately half of the sugar, and the salt into a medium sized bowl.
Using a hand mixer, whip the egg whites, cream of tartar, and extract together until smooth.
Add the remaining sugar and whip until stiff peaks begin to form after several minutes.
Slowly resift some of the flour/sugar mixture onto to the top of the egg whites leaving a thin layer on top of the egg white mixture. Fold into the egg white mixture.
Repeat this process until all of the flour/sugar mixture is gone. It should take at least 6-7 times.
Use an ice cream scoop to divide the batter among the cupcake liners.
Bake for approximately 20 minutes or until tops are golden.
Strawberry Mascarpone Frosting
8 ounces mascarpone cheese softened
1/2 cup strawberry puree (blend 1 cup fresh strawberries in blender)
1/2 cup heavy cream
1/2 teaspoon vanilla extract
2/3 cup powdered sugar
Using a hand mixer, beat the mascarpone cheese until smooth.
Add in the strawberry puree, heavy cream, and vanilla extract, and mix throughly.
Add in the powdered sugar until desired consistency is reached.
Cool cupcakes thoroughly before frosting.
Garnish
sliced strawberries
sliced almonds, if desired
Place garnishes on top of cupcakes.
Enjoy!
slightly adapted from CupcakeRecipes.com
Bonnie thought she should get a seat at the table.