Circus Animal Truffles
We do the majority of our grocery shopping at Whole Foods because their produce and and meat are superior, but occasionally on our walks with Bonnie to the park, we'll stop by Safeway for non-perishables and to grab an extra ingredient or two we might have added to our grocery list or forgotten. It's also the place where I occasionally impulse buy processed, junky treats that make me nostalgic for my childhood (and brands they wouldn't dare sell at Whole Foods). That's where the bag of Mother's Frosted Circus Animal Cookies were— a complete and total impulse buy.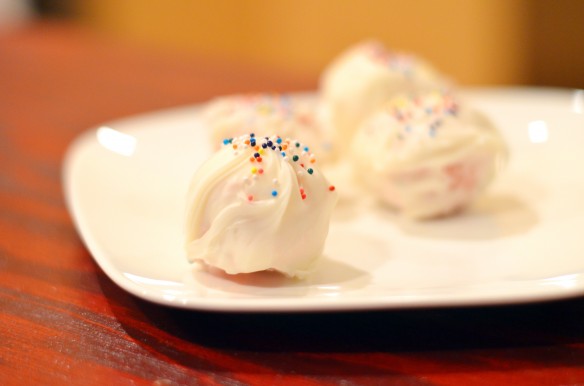 Once I browsed the web and decided what to make, I had to make another trip to Safeway to buy prepackaged cream cheese frosting. These are completely unhealthy and full of things I try to limit eating, but they are sweet, sugary, and and absolutely addictive. It's hard to be mad eating basically cookies and frosting! I wish you could have seen the look and heard the noises coming from Dustin's mouth as he bit into one. One day I'll have to take a video of him taking the first bite of a dessert.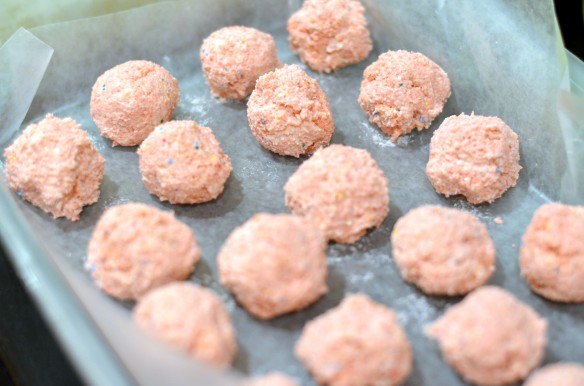 I promise we are really trying to eat better. However the day I made these, I did spend 1.5 hours at the gym and took Bonnie on a verrry long walk...
Circus Animal Truffles
yields 24-28 truffles
3 cups of Circus Animal Cookies (1 standard 12-ounce bag)
3/4 of 16-ounce can cream cheese frosting
1 10-ounce package Wilton white candy melts
rainbow nonpareils
Process the cookies in a food processor until coarse crumbs form.
In a large bowl, stir in the frosting with the crumbs.
Use a cookie scoop to form the mixture into balls and place on a wax paper lined baking sheet.
Place in the freezer for 3 hours until frozen solid.
Melt the candy melts in the microwave according to package instructions.
Use a fork to dunk and coat each ball in the candy melt. Place back on wax paper and immediately sprinkle the nonpareils on top before the candy melt starts to harden.
Place in the refrigerator until shell has hardened (15 minutes and mine were good).
adapted slightly from The Domestic Rebel