Corn Cookies
Momofuku can do no wrong. These cookies are delicious as is to be expected from anything that comes out of their cookbook. The flavor is a bit hard to describe. Kind of like sweet and salty buttered corn on the cob or popcorn with added sugar to turn it into dessert. I know that may sound a little weird, but it really is a flavor explosion in your mouth. I guess they are sort of like a sweet cornbread, but absolutely a million times better. Dustin said he was a little unsure about the flavor after the first few bites, but was definitely hooked by the end and having to use quite a bit of self control not to go back for another. The texture is great— a slightly crispy exterior with a buttery soft interior.
These weren't actually high on my list to make from the Momofuku Milk Bar cookbook, but since I already purchased corn flour for the berry corn muffins, I decided to give them a go. They did not disappoint.
This dough works best if you let if sit overnight in the fridge. I made this dough, let it sit, then on the day I intended baking them, I came down with the worst sore throat and a stuffy head. I made a huge batch of these cookies— 2 dozen, using 2 sticks of butter— and I couldn't even share all of their deliciousness with anybody besides Dustin. I didn't want to risk sending any of my sick germs to work with Dustin, but I figured if Dustin was going to get sick he was already in trouble living in the same apartment as me. And actually, Dustin had a sore throat before I did, so even though he didn't get as sick as me, I claim that he passed on the illness to me.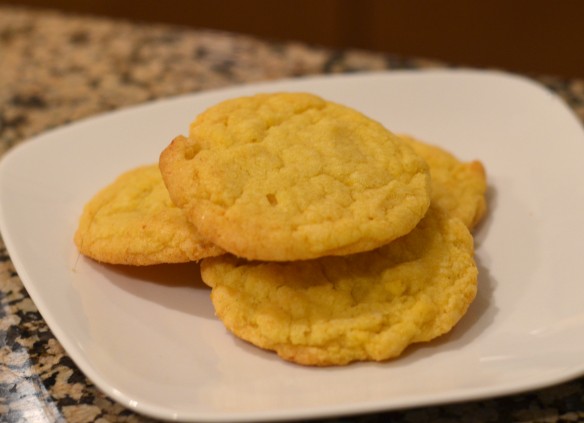 I'm sad I couldn't send these cookies out into the world to share, but we definitely enjoyed them all by ourselves for a few days.
Corn Cookies
yields 2 dozen smaller or 12-15 larger cookies
1 cup unsalted butter, room temperature
1 1/2 cups granulated sugar
1 large egg, room temperature
1 1/3 cup all-purpose flour
2/3 cup freeze dried corn powder
1/4 cup corn flour (not cornmeal)
1 1/2 teaspoons salt
3/4 teaspoon baking powder
1/4 teaspoon baking soda
In the bowl of a stand mixer, cream together the butter and sugar until light and fluffy.
Add in the egg and beat for approximately 7 minutes until the mixture looks very airy.
While the mixer is churning away, mix the flour, corn powder, corn flour, salt, baking soda, and powder together in a medium-sized bowl.
Slowly add the dry mixture to the wet mixture until barely combined.
At the point, the cookbook says to portion the dough into pieces, place on a cookie sheet, and then chill in the fridge (they need to chill in order to not spread too much). I just chilled the dough and portioned the dough balls out with a medium sized cookie scoop after they were chilled because I didn't have room in my fridge for two cookie sheets. The dough was a little tough to work with, but they came out just fine. Either way place dough balls on silicone or parchment paper lined baking sheets and flatten slightly.
Preheat the oven to 350º.
Bake for 12-13 minutes for smaller cookies or 15-18 minutes for larger cookies.
Cool on the pan for 5 minutes before transferring to a cooling rack. Will keep for up to 5 days in airtight container at room temperature.