Doritos Crusted Chicken Tenders
Those stupid Taco Bell Doritos Locos Tacos commercials have me really craving Doritos. As much as we try to stay away from overly processed food, sometimes the junk food you can buy at the grocery store really hits the spot. It's not gourmet or anything, but can be incredibly satisfying. I have this same problem with ballpark nacho cheese, too.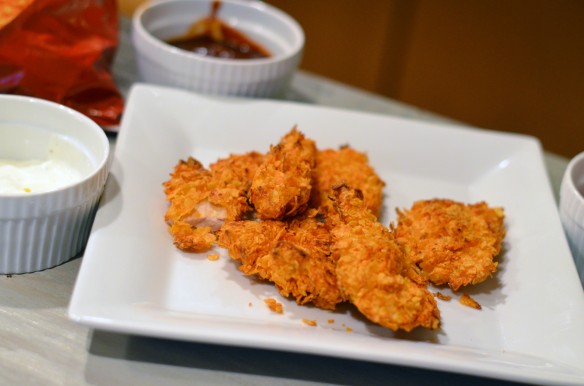 Actually the thought of making a taco with a Doritos shell is surprisingly delicious to me. I know I would be disappointed by the filling of a Taco Bell taco, so no visits to the fast food chain were in order. However, I did briefly consider driving through and ordering the tacos sans meat and toppings and coming home with empty taco shells to fill myself. Dustin said they probably wouldn't do that. And would think I was weird.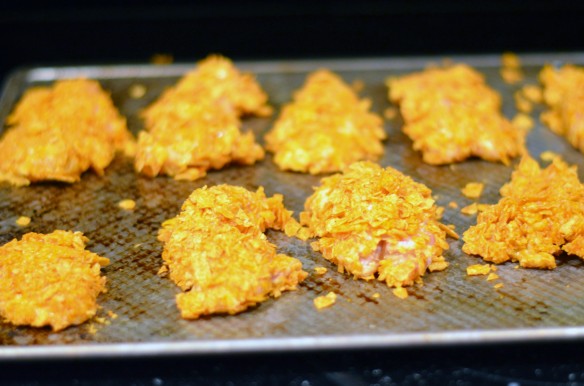 So I didn't. However, I still was craving Nacho Cheese Doritos, and I'd been seeing pictures of Doritos-crusted chicken online. I decided instead to make my own to fill that Doritos void. It's really the same as any other faux-frying recipe, except you just replace bread crumbs with crushed Doritos.
I did soak our chicken breasts in a milk/vinegar mixture for several hours to mimic the plumping of the chicken breasts in buttermilk. Then we coated pieces of the breasts with liberal layers of flour, egg, and chips. We actually got a really great coating on the chicken this time around, so they actually looked like chicken tenders you might order at a restaurant, which is not usually the case when we've faux-fried things in the past.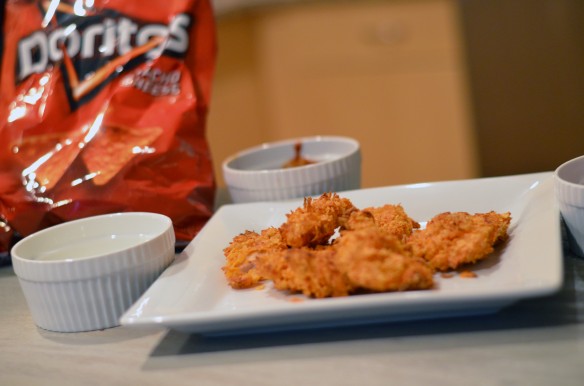 Baked in the oven at 400° for approximately 20 minutes, give or take depending on the varying size of the breast pieces, we served our tenders with blue cheese dressing, ketchup, and leftover barbecue sauce. We were pretty impressed with how delicious these chicken tenders came out— definitely the best homemade version we've ever had! Doritos craving satisfied. Although I still think they'd make a great taco.