G.T.T.— Gone To Texas
Super busy around here. We just got back from a trip to Eastern Washington wine country with our neighbors— the Tri-Cities and Walla Walla areas. The trip was an absolute blast. We came back with a lot of wine to keep the wine cabinet stocked for many, many months. We bought all sorts of wines— mostly reds, a few whites, and a decent number of dessert wines for me including sweet whites, ports, and even some sherry from the oldest family-owned winery in Washington (recommended we use in use cooking, which I'm sure we will). We would do a recap post, but honestly, I don't think we could remember enough about each specific place, or even which places we went off the top of our heads since we went to so many places. One of my favorites was the Sleeping Dog Winery where we met Aurora, a beautiful old dog that reminded me of what Ava might be like in a few years when she mellows out. Sweet Aurora came and greeted us as we pulled up just as she does with each and every visitor. I absolutely loved her! And the wines were really great and reasonably priced, too. My favorite parts of the trip were definitely meeting the winery dogs! Now I'll leave you with a picture of our purchases for a little perspective.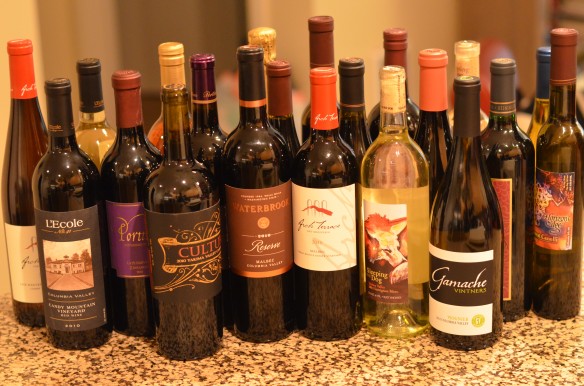 Southeastern Washington is definitely a fun mini vacation for anyone who enjoys wine. Bonus for Seattlites is that the weather is completely different. It's sunny and even desert-like once you make it past the Cascades.
Now we are G.T.T.— gone to Texas (I always enjoyed that acronym in Texas History class)— for the wedding of some of our best friends from college (and all of the festivities beforehand!) and visiting family in San Antonio and Cuero/Yorktown. Looking forward to good times with some of our favorite people. More cooking when we return!