Oreo Bagels
I thought about making chocolate chip bagels, but chocolate chips bagels are a little plain. So instead I replaced the chocolate chips with Oreos to add a little pizzazz to the bagels.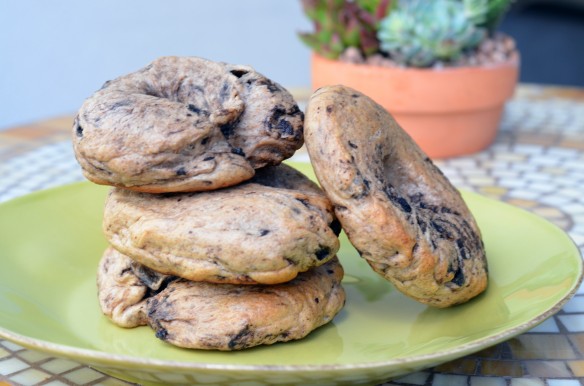 Even though the cream from the Oreos is included in the bagels, you really don't taste it much, so I guess the cream cheese you put on top counts as the cream from the middle. I actually thought about purchasing milk chocolate cream cheese at the grocery store to top these bagels with, but I'm really glad I went with the regular cream cheese in the end. What I think might taste really great is adding a little vanilla extract into the cream cheese...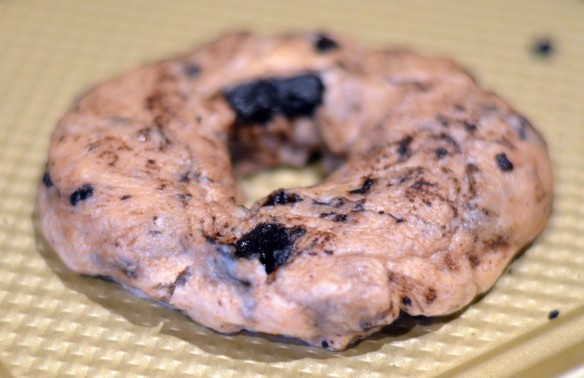 Oreo Bagels
yields 12 bagels
2 packets active dry yeast
1/2 cup + 2 tablespoons granulated sugar, divided
1 1/2 cup warm water
1 tablespoon canola oil
1 cup whole wheat flour
1 tablespoon salt
3 1/2-4 cups bread flour
12 Oreos, roughly chopped
Proof the yeast along with 2 tablespoons of sugar in the warm water until foamy (about 5 minutes).
Add the yeast mixture, canola oil and the rest of the sugar into the bowl of a stand mixer outfitted with the dough hook.
First combine the whole wheat flour and the salt together and then slowly add the dry mixture to the mixer until incorporated.
Then slowly add the bread flour until a stiff dough is formed. Continuing mixing for 6-8 minutes to knead the dough.
Cover the bowl with a towel, allowing the dough to rise for 30 minutes.
Divide the dough into 12 equal pieces. Roll each piece into a ball, flatten slightly then poke a hole in the middle to look like a bagel.
Place on parchment lined baking sheets (6 to a sheet), cover with towels and and allow to rise 45 minutes-1 hour.
Bring a large pot of water to a boil (you can add sugar, but I personally didn't find it necessary) and preheat the oven to 400º. Boil each bagel for 45 seconds to a minute on each side and then return to baking sheet.
Bake the bagels for 20 minutes.