Peanut Butter and Jelly Bars
We are officially having a week of summer weather in Seattle! Over the weekend we hit up a park with our neighbors for a little picnic and dog play time. These peanut butter and jelly bars seemed like the perfect, classic and nostalgic all-American dessert for a warm weather outing— all of the flavors of the kiddie sandwich but elevated for a slightly more sophisticated palette. Using a fancy jam sure helps that.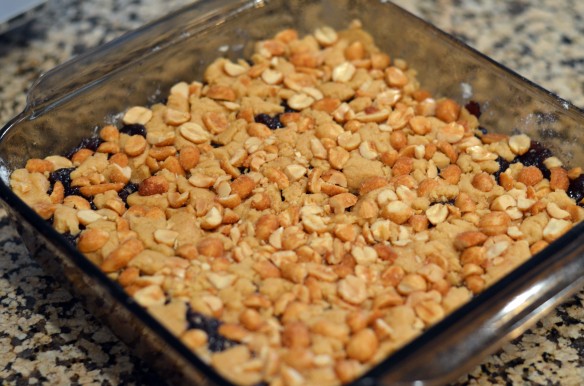 Even though I still prefer my peanut butter and jelly sandwiches sans the jelly since that's how I ate them as a kid— the jelly didn't add much for me except for making the bread all soggy, but I digress. These bars are very rich, but they go down quite easily, even without a glass of milk.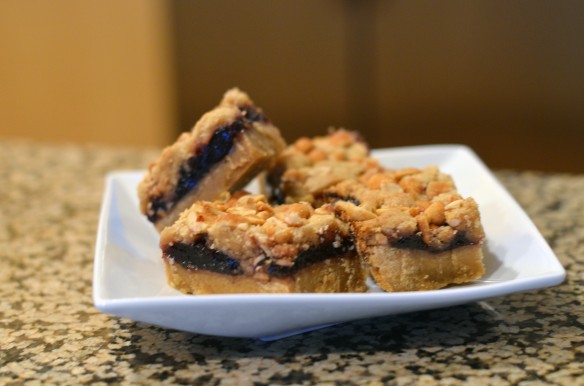 Peanut Butter and Jelly Bars
yields 16 square bars
1/2 cup unsalted butter, room temperature
3/4 cups granulated sugar
1 teaspoon vanilla extract
1 large egg, room temperature
1 cup creamy peanut butter
1 1/2 cups all-purpose flour
1/2 teaspoon baking powder
3/4 teaspoon salt
1 14-oz jar jam (we used Tayberry)
1/2 cup honey roasted peanuts, chopped
Preheat the oven to 350º. Spray an 8"x8" baking dish with non-stick cooking spray and then flour the dish.
In the bowl of a stand mixer, cream together the butter and sugar for several minutes until light and fluffy.
Add in the vanilla extract and the egg, and continue to beat.
Add in the peanut butter, and mix until smooth.
In a medium-sized bowl, sift together the flour, baking powder, and salt.
Slowly add the dry mixture to the wet. Mix until just incorporated.
Spread approximately 2/3 of the peanut butter dough into the bottom of the baking dish.
Spread the jam on top of the dough layer.
Cover the jam layer with the remaining peanut butter dough by breaking off small pieces and dropping them randomly on top. You don't need the entire layer covered because the dough will spread in the oven.
Sprinkle peanuts on top.
Bake in the oven for approximately 35 minutes. Let cool throughly (at least 3 hours) before slicing into squares and serving.
adapted from Food Network Ina Garten