Root Beer BBQ Chicken Sandwiches
We just made homemade BBQ sauce the other day, but the root beer based BBQ sauce that coats these chicken sandwiches is distinctly different than what we made previously (and just as tasty). There is a mostly sweet but slightly smoky undertone to the sauce. I really enjoyed the addition of the root beer flavor to this sauce. It also doesn't hurt that you can finish the leftover root beer from the bottle while you make it!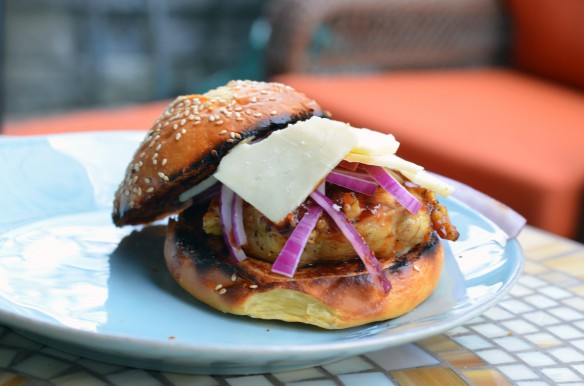 Make sure you drown your chicken in sauce! Then, smoky cheese melted on top really will send your sandwich over the top!
Root Beer BBQ Chicken Sandwiches
1 cup root beer (we used Berghoff's)
1/2 cup ketchup
2 tablespoons light brown sugar
2 tablespoons molasses
juice of half a lemon
1/2 jalapeño, minced
1 teaspoon ground mustard powder
1/4 teaspoon ginger
1/4 teaspoon paprika
1/2 teaspoon garlic powder
1/2 teaspoon onion powder
1/2 teaspoon salt
1/2 teaspoon pepper, freshly ground
oil, for brushing chicken
2 chicken breasts
2 brioche burger buns, toasted
2 ounces smoked cheddar cheese, sliced
1/2 red onion, sliced
Combine all of the ingredients up to the freshly ground pepper in a large saucepan. Bring to a boil.
Reduce to simmer then cook for approximately 20 minutes until thickened. Meanwhile, heat up your grill.
Rub some oil on the chicken breasts and place on the grill. In the last few minutes of cooking, rub the sauce on the chicken breasts and finish grilling.
Place chicken on toasted buns along with cheese and onion.