Sesame Crusted Swordfish Steaks
Last time we went to the grocery store, Whole Foods had some fantastic looking tuna steaks. All of our meals for the week were already planned out, so I made a mental note that we'd have to do tuna steaks of some sort next time. I thought a sushi-inspired, seared tuna encrusted with sesame seeds sounded like the perfect dinner to enjoy on our patio in the nice weather.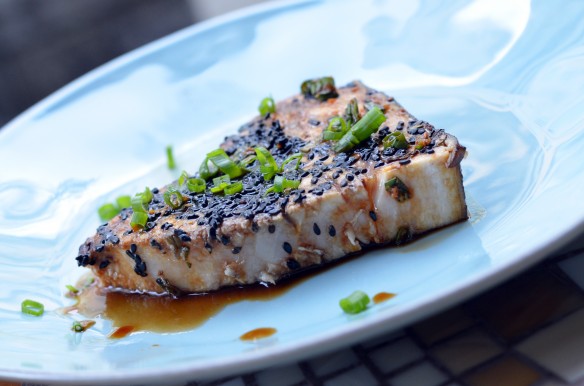 Well we show up at Whole Foods and all they have left is one tiny, sad looking piece of Ahi. Fortunately they had some nice looking swordfish steaks, which can be cooked similarly, so we called an audible and changed our meal up. Since we do eat tuna quite frequently, I am sort of glad they ran out of tuna to force us to change it up and try something a little more exotic, so-to-speak as the swordfish steaks might have even been tastier than if we had bought tuna steaks.
First, we marinated the tuna steak in 1/2 cup soy sauce, the juice of a lemon, about a tablespoon of freshly ground ginger, a handful of chopped scallions, and the secret to any good homemade Asian dish— toasted sesame oil (we probably used about a tablespoon or so) for approximately 5-10 minutes. We also reserved a bit in a small bowl before adding the steaks in for drizzling on top. Dustin liked the marinade so much that he ate some by the spoonful. It was that good.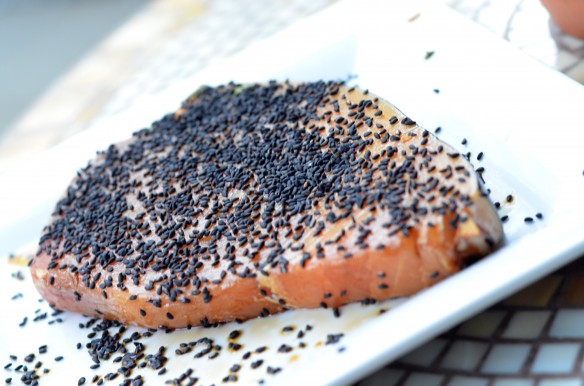 We heavily coated the top and bottom of the steak with toasted black sesame seeds before grilling for only a couple minutes on each side.
Delicious, heathy, and tasted great with a bottle of "The Ball Buster" wine, a bold wine from Australia that is rated highly, but picked up by us because of the name!