Spicy Chocolate Donuts
To celebrate Cinco de Mayo a little early, I wanted to make chocolate donuts made with Mexican chocolate. However we were unable to find "Mexican chocolate" at our local grocery stores, so we just bought a spicy chili chocolate bar and added own extra spicing and flavors.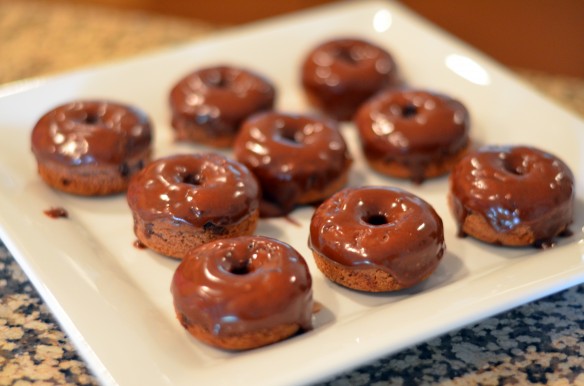 These donuts are actually quite spicy, but are quick to come together and were the perfect way to celebrate the absolutely gorgeous weather we are experiencing this Cinco de Mayo weekend. It was a perfect, sunny 75º yesterday with similar temperatures expected to continue for the next several days. Yesterday morning we went for a run, bought and potted a bunch of beautiful new plants for our patio, went into Seattle for a Paseo picnic, Pike's Place, a little shopping at the mall, and finally a rich and decadent pasta dinner to be highlighted here very soon. Today we are hitting Seattle's Mobile Food Rodeo for some hopefully delicious food cart fare and a beer and margarita garden to celebrate the day.
Spicy Chocolate Donuts
yields 12 mini donuts
Donuts
1 cup whole wheat pastry flour
1/8 cup unsweetened cocoa powder
1/2 teaspoon baking powder
1/4 teaspoon baking soda
1/8 teaspoon cayenne pepper
1/4 teaspoon cinnamon
1/4 teaspoon salt
1/4 cup sugar
1 large egg
1 cup + 2 tablespoons buttermilk
1/2 teaspoon almond extract
1/2 teaspoon vanilla extract
1 tablespoon canola oil
2 ounces spicy chocolate, chopped
Preheat the oven 350º. Spray a nonstick mini donut pan with cooking spray.
In a medium sized bowl, mix together flour, cocoa powder, baking powder, baking soda, cayenne pepper, cinnamon, and salt.
In a large bowl, mix together sugar, buttermilk, extracts, and oil.
Slowly add the dry mixture to the wet mixture, and mix until just combined.
Fold in the chocolate pieces.
Transfer batter to a plastic bag, then cut off one corner, and pipe batter into donut pan (be sure not to overfill the cavities— you may have leftover batter).
Bake in the oven for 10-12 minutes.
Allow to cool for several minutes before gently removing with the aid of a butter knife.
Icing
2 tablespoons butter, melted
2 ounces spicy chocolate, melted
2/3 cup powdered sugar
2 tablespoons almond milk (or other milk)
1/2 teaspoon vanilla extract
1/8 teaspoon cayenne pepper
1/4 teaspoon cinnamon
In a medium sized bowl, combined the melted butter and chocolate with the powdered sugar.
Add in almond milk and vanilla, adding more milk if the icing is too thick.
Sprinkle in the cayenne pepper and cinnamon. Adjust flavors to taste.
Dunk slightly cooled donuts in the icing. Place them in the refrigerator for several minutes prior to serving to allow the icing to set.