Uova da Raviolo
Watching Worst Cooks this season, we saw one of the contestants make ravioli with egg yolks in the middle, so that when you cut into your pasta, you get a nice runny egg oozing out over everything. Looked like our perfect pasta dish! And despite it looking difficult to make (egg yolks can break way too easily), we were convinced that if a contestant on Worst Cooks could make it, so could we.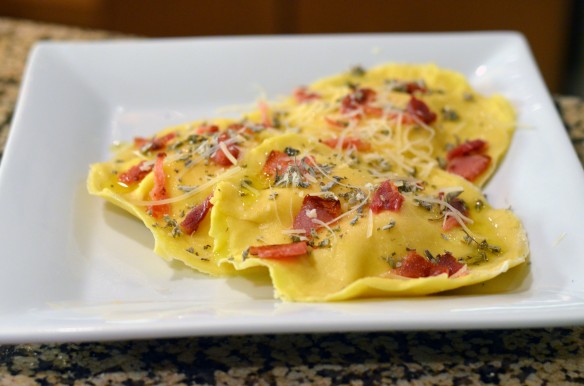 This dinner is definitely a weekend endeavor though. First, we went into Pike's Place Market to get farm fresh eggs the day of making (we bought fresh medium-sized brown eggs), so they'd be as fresh as possible to reduce the risk of bacteria, but also for the best taste since the egg is definitely the star of this dish. We also stopped and got fresh ricotta cheese from the specialty cheese shop in the market for an extra fresh meal.
We first made a basic pasta dough, let it rest, rolled it out, and all that jazz. We only rolled it out to a "7" on our pasta machine because we wanted to make sure the pasta was thick and strong enough to hold the filling. We were worried about strength for no naught, and actually found the pasta to be a bit too thick for ravioli (at least when it was cooked for only 2 minutes...you don't want to cook it any longer or you will have a cooked egg yolk). Next time, we'd definitely roll the pasta dough thinner. But honestly, that's the only complaint we had about this meal. If you don't have a machine, you could definitely use a rolling pin, but I think it would be difficult to get the dough as thin and even as you'd like it to be.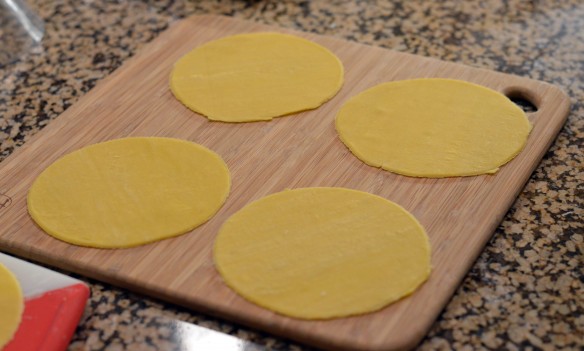 While waiting for our pasta dough to rest, we brought a pot of water to a boil (immediately after the ravioli are made they need to be placed in the boiling water to cook or else they might start sticking to whatever they are on and you risk rippage and oozing egg yolk before you intended). At this time we also cooked up a few slices of thickly-cut bacon, so it would have time to cool and crisp up before being crumbled on top of the pasta.
Earlier, we ventured out to several of the different local cooking stores in search of 5" biscuit or cookie cutter from which to cut out our ravioli, but we had no such luck finding one. We decided to improvise and used the rim of a martini glass and a knife instead. In the end, we were glad not to have spent money on another kitchen gadget because our home fix turned out so well. We cut out 12 circles from the dough and then proceeded to make the filling.
The filling for the ravioli was quite basic— just mix ricotta with parmesan cheese and a little nutmeg, salt and pepper. We used about 1/2 cup of ricotta and probably 1/4 cup parmesan to make 6 large ravioli (the perfect amount for a husband and wife...two for me and four for Dustin). We spooned the mixture into the center of half of the circles then used our thumbs to make an indentation that sort of looked like a nest for the egg yolk to sit in. Then we carefully separated the egg yolk from the white and slid the yolk into the middle of the nest. Make sure to reserve the egg whites to use as a sealant for the ravioli.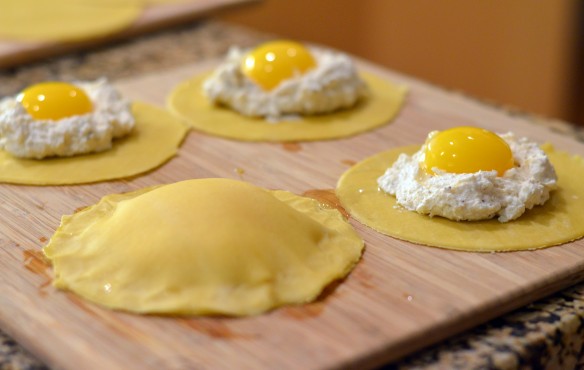 Once all of the egg yolks were sufficiently in place. We used our fingers to rub egg white around the ricotta nest and gently placed the plain dough circles over the tops, pressing firmly on the edges to seal the ravioli.
We VERY carefully placed the ravioli, two at time because that is all our pot would safely allow, into the water and let them cook for about 2 minutes before removing. A slotted spatula was incredibly helpful for this task.
After the ravioli were finished cooking, we spooned some truffle oil on top (brown butter or even plain olive oil would be alright too) and sprinkled crumbled bacon and dried sage on top.
Of course we couldn't wait to dig in and puncture the ravioli to make sure we didn't overcook the egg yolks. We didn't, and the dish was heavenly.