Caesar Salad Dressing
Our Homemade Caesar dressing can be counted as a partial success. We were just slightly off on the flavor because we added waaaay too much garlic. When we bought our garlic, the grocery store was only stocked with purple garlic, something we had never actually purchased before. Note to future self: be more careful when using unfamiliar garlic. The recipe called for 4 cloves of garlic. Once we peeled the cloves, we noticed they were enormous, so we decided to cut back to three. We weren't overly worried because we love garlic. In fact, I almost constantly add an extra clove or even double the amount some recipes call for and don't even notice. Perhaps it was just a flavor thing from the purple garlic or the size of the cloves were equivalent to two normally sized cloves. Perhaps it was stronger than the regular white garlic we usually buy (although according to my research online purple garlic is usually more mild). Whatever it was, I think I'll try to stick to buying white garlic if at all humanly possible.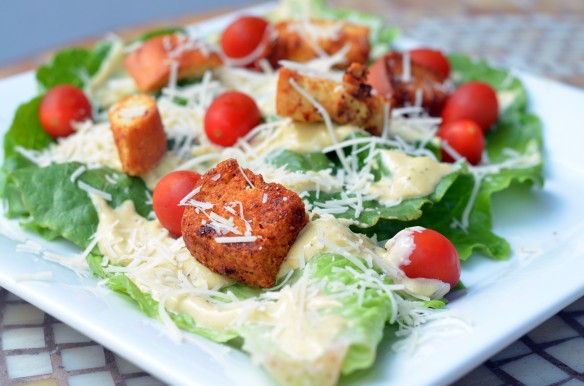 We used whole leaves of lettuce instead of pieces since that's what the fancy places that make it table side usually do. The tomatoes tasted great as well as the croutons, even though they were store-bought, which Dustin complained about :)
We got the recipe from The New York Times, and it seemed pretty legit with raw egg yolks, anchovy filets, and all. In the end I think that if we'd have gotten the garlic right, the dressing would have been pretty darn near perfect, so I am definitely willing to try it again in the future. I'd also think I'd try the whole grilling of the lettuce thing it recommends. Sounds delicious.