Cornbread Panzanella
I really enjoyed the panzanella we made last summer, and looking for a fresh twist on the dish this time around, I decided to make it with cornbread rather than a crusty white bread. I didn't exactly like any of the recipes I found online, so I combined elements from several different salads and just sort of winged it. I don't usually get too nervous about how things are going to turn out, but I really did in this instance. I tried to keep my expectation pretty low for this dish.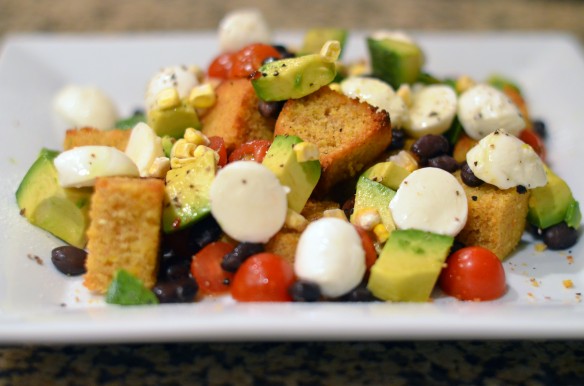 I'm pleased to report that it turned out way more delicious than I could have ever imagined. And Dustin ate a very generous helping, so I think we were on the same page.
First I made cornbread, loosely covered it with foil and let it stale for about 24 hours. You could definitely use a store-bought cornbread, but I was really excited to use the corn flour I had in the cabinet to make some homemade cornbread.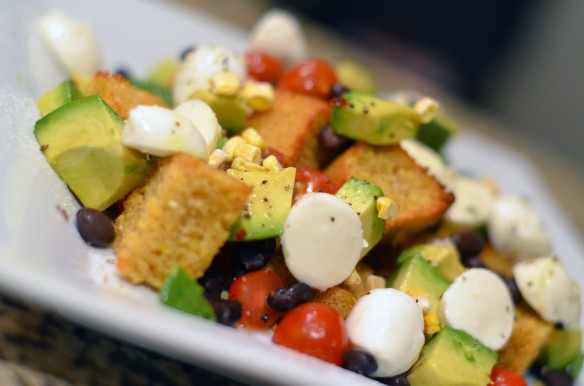 Cornbread Panzanella
Cornbread
yields 1 9"x9" pan
1/2 cup unsalted butter, melted
1/3 cup granulated sugar
2 tablespoon honey
2 large eggs, lightly beaten
1 cup buttermilk
1/2 teaspoon baking soda
1/2 teaspoon salt
2/3 cup whole wheat flour
2/3 cup corn flour
2/3 cup cornmeal
Preheat the oven to 375º. Spray a 9"x9" baking dish with cooking spray.
Combine the butter, sugar, honey, eggs, and buttermilk in a large bowl.
In a small bowl, combine the baking soda, salt, flours, and cornmeal.
Slowly add the dry mixture to the wet mixture, stirring until just incorporated.
Pour into the greased baking dish and bake for 30-35 minutes, or until a toothpick inserted in the center comes out cleanly.
Allow to throughly cool in the pan before removing and slicing.
Panzanella
yield 4 servings
1 batch of cornbread, cut into bite sized cubes
1 cup black beans
1 cup cherry tomatoes, halved
1 cup mozzarella balls, halved
1/2 cup freeze dried corn
1 avocado, chopped
salt, to taste
pepper, to taste
dressing, recipe below
Preheat oven to 350º.
Mist cornbread cubes with olive oil or cooking spray.
Toast cornbread cubes on a baking sheet for 15 minutes, turning half way through. Allow to cool slightly.
Toss the cooled cornbread cubes with black beans, tomatoes, mozzarella, freeze dried corn, and avocado.
Drizzle on dressing.
Dressing
makes enough to serve 4
1/2 cup olive oil
1 lime, juiced
1 tablespoon sherry vinegar
red pepper flakes, to taste
Combine all ingredients in a bottle and shake vigorously.