Crockpot Thai Coconut Shrimp Risotto
Needing a quick and simple dinner for when we got home from an evening trip to the gym and not wanting to prep a big meal, I decided to give making risotto in the crockpot a try. For a unique twist on risotto, we decided to incorporate Asian flavors instead of Italian and make the risotto creamy using coconut milk instead of cheese.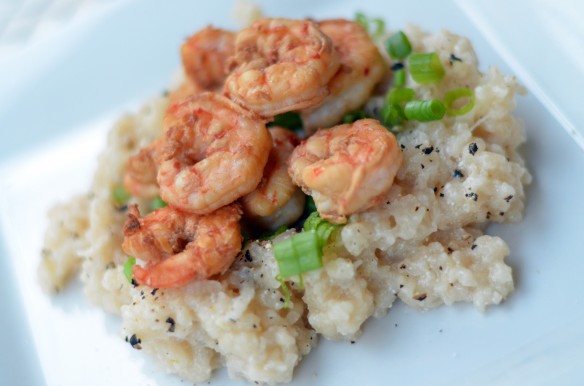 I was a little unsure of methodology for making risotto in a crockpot, so I literally decided to just add a bunch of different ingredients on a whim all at the same time with no prep and pray it worked out. Honestly, it was not the best risotto we've had in terms of flavor or texture. But considering how easy it was, I'd definitely consider making risotto in the crockpot again when I'm pressed for time and need a simple meal. Plus, we really enjoyed the fresh shrimp that traveled to us all of the way from the Gulf Coast!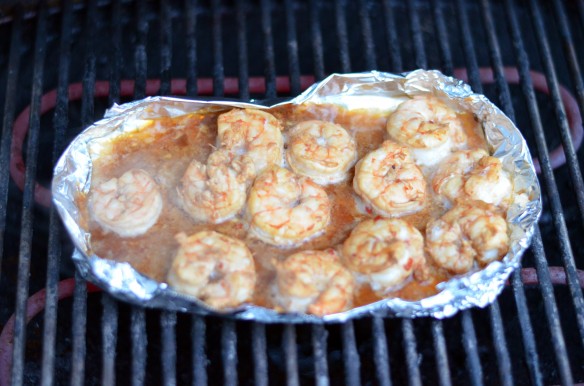 Thai Coconut Shrimp Risotto
Risotto
1 1/2 cups arborio rice
4 1/2 cups chicken stock (plus more as needed)
2 teaspoons toasted sesame oil
1 cup coconut mik
1/4 cup sherry vinegar
4 cloves garlic
1 teaspoon freshly grated ginger
2 tablespoons unsweetened coconut
1 shallot, diced
2 tablespoons butter
Combine all of the ingredients except for the butter in a crockpot.
Cook on high heat for 3 hours until all of the liquid has been absorbed and you have fluffy rice. You may need to add a little more chicken stock to loosen up the rice before it is ready to serve.
Stir in the butter into the hot risotto just before serving.
Shrimp
1 lime, juice
1 tablespoon toasted sesame oil
1/4 cup soy sauce
1 teaspoon freshly grated ginger
1/2 pound fresh Gulf shrimp, peeled and deveined
Combine all of the ingredients in a large plastic Ziploc bag.
Allow the shrimp to marinate for about 30 minutes in the fridge while heating your grill up.
Grill the shrimp for several minutes on each side, depending on size, until fully cooked.
Serve on bed of risotto.