Crystalized Ginger & Peach Muffins
These are definitely some of the best healthy muffins I've made— whole wheat flour and oats make up the majority of the base— and the flavor combination is something a little unique and different than your standard muffin.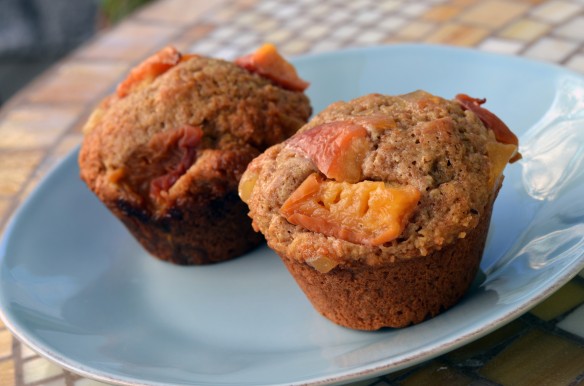 The texture of these muffins remind me of the muffins we occasionally buy at Whole Foods— hearty and not too soft to remind you that you are eating a muffin for breakfast, not a cupcake. I really like the crystallized ginger and think I would add more to the topping, and I also would add the sautéed peaches to the inside of the batter.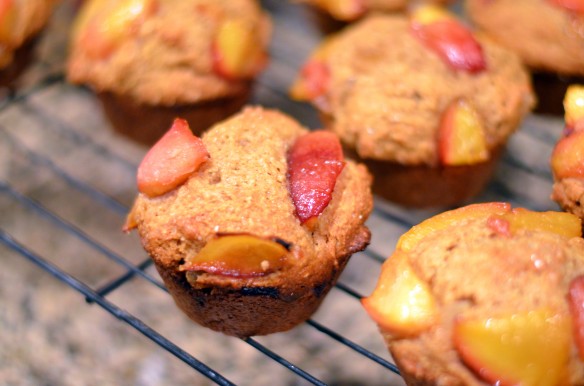 Crystallized Ginger and Peach Muffins
yields 9 muffins
Peach Topping
1 tablespoon unsalted butter
1 tablespoon honey
1 tablespoon freshly grated ginger
2 medium yellow peaches, ripe yet firm, sliced
Melt the butter in a large saucepan over medium heat. Add in the honey and ginger to make a syrup.
Once the syrup is bubbling, add in the peach slices, coating with syrup and cook for several minutes until slightly softened.
Remove from heat and allow to cool.
Muffins
1 cup oat flour (you can process rolled oats in the food processor and then measure out)
3/4 cup whole wheat flour
1/2 cup all-purpose flour
1/4 cup sugar
1/4 cup light brown sugar, packed
1 teaspoon baking powder
1 teaspoon baking soda
1 tablespoon freshly grated ginger
3/4 teaspoon salt
6 tablespoons unsalted butter (I actually used Earth Balance), melted and cooled
3/4 cup buttermilk
1/2 cup plain nonfat Greek yogurt
1 large egg, beaten
5 tablespoons crystalized ginger, chopped
turbinado sugar, for topping
cooking spray
Preheat the oven to 350º. Spray a muffin tin liberally with cooking spray.
In a large bowl, combine the flours, sugars, baking powder, soda, ginger, and salt.
In a medium sized bowl, mix the butter, buttermilk, yogurt, and the egg.
Pour the wet ingredients into the dry and stir until just combined.
Stir in the crystallized ginger.
Use a cookie scoop to divide the dough into 9 cavities (use 2 muffins tins to allow the muffins room to spread out over the top).
Place peach slices on muffin tops and sprinkle with turbinado sugar.
Bake for 22-24 minutes or until a toothpick inserted into the center comes out cleanly.
Allow to cool in tin for 5 minutes before transferring to a wire cooling rack.
slightly adapted from Good To The Grain by Kim Boyce