Dahlia Bakery English Muffins + Epic Breakfast Sandwiches
As promised a few days ago, today I am writing about my experience making homemade English muffins. There are several different methods I came across, but I decided I really wanted to make the Tom Douglas Dahlia Bakery muffins from Dahlia Bakery cookbook. We have stopped by the bakery several weekend mornings for their tasty breakfast sandwiches. Their breakfast sandwiches are miles and miles above any you can get from a fast food chain— like they shouldn't even share a name because there is such a disparity in their taste.
Making English muffins is not an easy endeavor. It is definitely a time investment and nearly impossible to start in the morning and eat them for breakfast— they'll have to be an afternoon snack at the earliest. Or you can make them over the course of a day and then eat them for breakfast the next morning. Not ideal since they aren't fresh from the oven, but definitely still better than any store bought English muffin.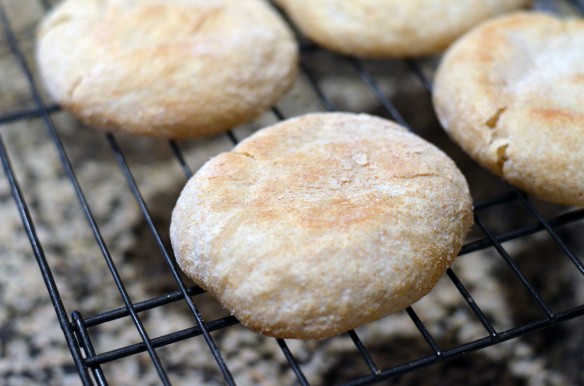 I baked my dozen English muffins in two batches. The first batch came out picture perfect. I couldn't have been more pleased. However on the second batch, when I took them out of the oven halfway through to press down the tops and flip them over, I didn't actually flip them over in my haste. So these muffins cooked more on the tops and then stuck to my baking sheet. Badly. They tasted *almost* as good, but they were missing chunks of their bottom that stayed on the baking sheet despite my gentlest efforts to keep the muffins intact.
The next morning we made epic breakfast sandwiches on top of these toasted English muffins, that I think Dahlia Bakery would be proud to stand behind and have their name associated with. They consisted of blueberry sausage patties (subtlety sweet, but not overpowering) with scrambled eggs and sharp white cheddar.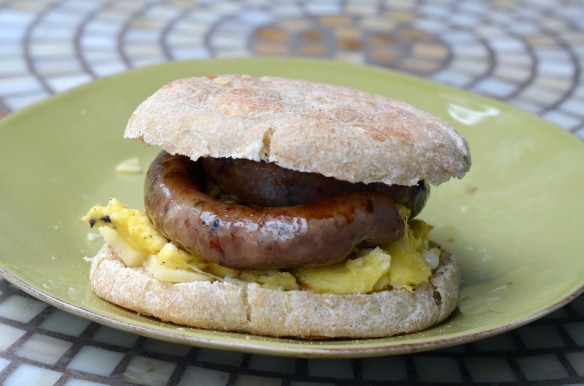 We spent the next few days after that, creatively using our English muffins, including simply toasted with fresh pineapple curd.
Dahlia Bakery English Muffins
yields 1 dozen English muffins
1 medium Yukon Gold potato (5-6 ounces)
1 1/3 cups water (68ºF) + 1/3 cup water (68ºF), divided
3 cups bread flour
1/4 cup whole wheat flour
1 tablespoon honey
2 1/2 teaspoons kosher salt
1 package active dry yeast
vegetable, for oiling hands and bowl
2 tablespoons all purpose flour, for dusting pan
2 tablespoons cornmeal, for dusting pan
Dice the potato into 1" chunks with the skin on. Cover the potatoes in a small saucepan and bring to a boil, cooking for 8-10 minutes until the potatoes are tender. Allow to cool before mashing with a fork or a potato masher/ricer. Measure 1/2 cup of tightly packed potato and place in the bowl of a stand mixer outfitted with a paddle. Discard remaining potato.
Add the first portion of water (1 1/3 cups) to the bowl of the stand mixer. It must be 68ºF for the dough to work. Use a thermometer to check the temperature. Add flours, honey, salt, and yeast. Mix on low for 10 minutes. The dough will be very sticky. Scrape the dough down the side of the bowl. Allow it to rest in the bowl for 5 minutes.
Mix the dough for another 2-3 minutes. The dough should be stronger at this point. Slowly start adding the second portion (1/3 cup) of water (break it up into 3-4 additions and make sure water is completely absorbed before adding more). Mix the dough for another 2 minutes until it is shiny.
Oil a large bowl and transfer the the dough from the mixer bowl to the oiled bowl. You will probably need to have oiled hands, as the dough is very sticky. Let the dough rise, covered with plastic wrap, in a warm area for 30 minutes. After 30 minutes, oil your hands again and stretch the dough in many different directions. Cover again and let rest for another 30 minutes. Stretch the dough again and allow to rest for 2 hours, covered. You can refrigerate the dough at this point and continue making the next day (all of the following steps will take slightly longer with cold dough).
Sprinkle two baking sheets with flour and cornmeal. Sprinkle your work space with flour and flour your hands. Transfer the dough to the work space and divide into twelve equal portions (a pastry scraper works well for this). Roll each portion of dough into a ball and flatten out slightly with the palm of your hand.
Place 6 muffins on each baking sheet, cover with towels and allow to rise in a warm area until they have doubled in size (between 1 hour and 1 hour and 45 minutes if dough has not been chilled).
Preheat the oven to 425º. When the oven is ready, bake each pan separately for 16 minutes total. After 8 minutes remove the pan from the oven, carefully press down slightly on the muffin top (wearing a clean oven mitt is a good idea) so your muffins do not get too puffy and then flip them over. Bake for the remaining 8  minutes.
Cool on a wire rack for at least 30 minutes before slicing and serving. You can freeze them before slicing since this recipe makes a big batch!
slightly adapted from The Dahlia Bakery Cookbook: Sweetness in Seattle