Frito Pie Burger
Frito Pie is basically another version of chili cheese fries in Texas. It's meaty, cheesy, and crunchy all in one. Now imagine that on top of of a beef patty sitting upon a brioche bun. That's what our unhealthy dinner of the week was last week. We've been trying to stick to only one unhealthy meal per week. We're sometime successful, but it appears my creativity with dinner is much greater when it comes to creating something unhealthy.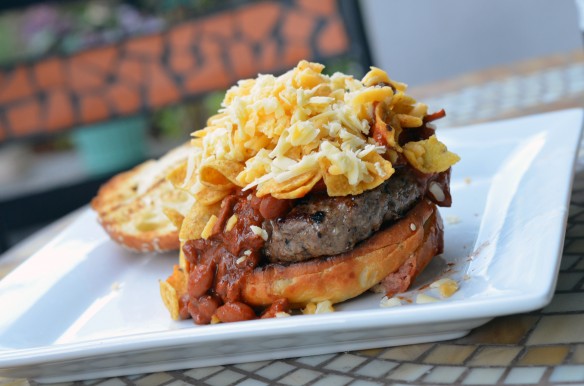 I remember seeing Bobby Flay have a burger with potato chips on it, so why not add Fritos to a burger? It definitely worked. I really liked the crunch of the chips on the burger; however they did get soggy fairly quickly, so I was constantly opening up my burger and adding more Fritos.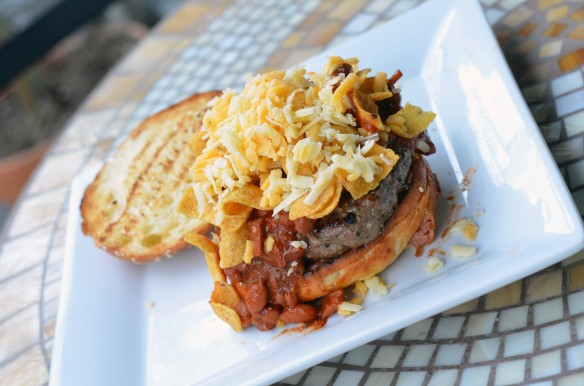 Since chili was such a small part of this recipe, I decided not to take the time to make it from scratch. Maybe I should have. Whole Foods has a very sad selection of chili. Only their brand. No beef chili— only vegetarian or chicken. There are copious amounts of beans in the chili, which I have somewhat mixed feelings about. We bought the spicy version of the chili, and it was mild at best. In the end, our burger was still delicious, but I think a better chili would have taken it over the top.
After we grilled the burgers, we topped them with chili, Fritos, and a mixture of shredded sharp white and medium cheddar cheese. Upon finishing these burgers, we felt stuffed, a few pounds heavier, but very satisfied!