Jamaican Jerk Chicken
So this isn't legit jerk chicken, but it is still really damn delicious and pretty darn similar. Jerk chicken that you'd get in Jamaica uses Scotch bonnet peppers, which are similar in heat to a habanero pepper, so that is what is often substituted here in the states. We decided to forgo the habanero pepper and just use a jalapeño, so maybe this jerk chicken wasn't as spicy as it could have been. I don't think it mattered though because Dustin and I both really enjoyed this dish, dunked in a cool lime-cilantro sour cream dipping sauce to contrast any spiciness from the dish.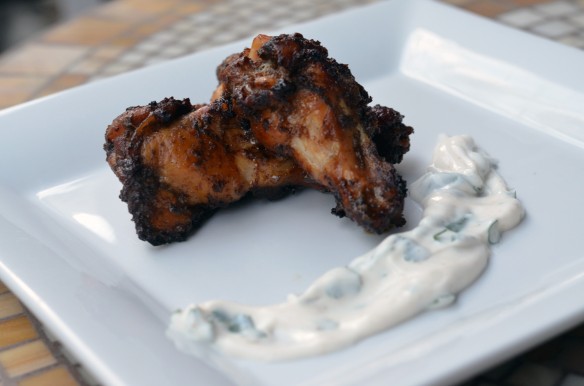 Jamaican Jerk Chicken
serves 2
Chicken
1 bunch of scallions, chopped
1/3 cup coconut oil
1/4 cup molasses
1 jalapeño, seeded and chopped
1 tablespoon freshly ground ginger
5 cloves garlic, crushed
1 teaspoon ground cinnamon
1 teaspoon ground cloves
1/2 teaspoon ground nutmeg
2 tablespoons fresh thyme, chopped
1/2 teaspoon ground cardamom
1 tablespoon + 1 teaspoon ground allspice
2 teaspoons salt
3 pounds of chicken legs and thighs, bone and skin on
Combine all the ingredients except the chicken in a food processor and process until a smooth paste is formed. Transfer the paste to a large plastic Ziploc bag, place the chicken in, making sure marinade covers all pieces of the chicken. Marinate the chicken for at least 6 hours or overnight.
Heat the grill and cook for approximately 25 minutes, checking and flipping regularly. Serve with cilantro-lime dipping sauce below.
Dipping Sauce
1/2 cup sour cream
1 teaspoon honey
1 lime, juiced
small handful of cilantro, finely chopped
salt, to taste
Combine all ingredients in a bowl, adjusting flavors to taste.