Lemon Poppyseed Pancakes
While eating at Kerbey Lane during my visit to Texas, I ate some absolutely delicious lemon poppyseed pancakes (in addition to a lot of the famous Kerbey Queso). I love all of the different pancakes at Kerbey Lane and had a difficult time deciding which flavor to order. These ones were basically like lemon poppyseed muffins with the glaze and all, but fluffier and with the addition of maple syrup on top. Since Dustin wasn't with me for the meal, I figured he deserved to enjoy in the deliciousness of lemon poppyseed pancakes too and decided to make them for him when we got back. Plus, I'm always looking for new flavors to incorporate into my pancakes and waffles!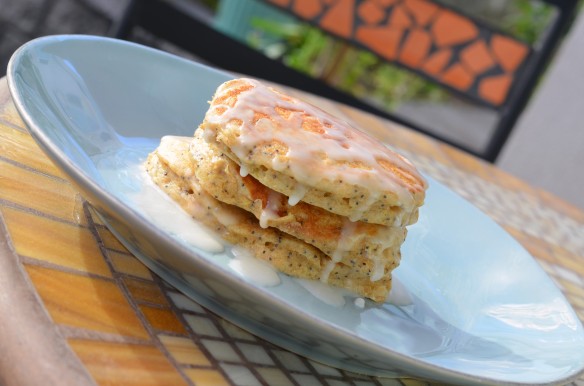 These pancakes are much more reasonable in size than the ones at Kerbey Lane. I ordered a short stack there and still only managed to polish off half of them. This recipe makes enough for 2-3 people and creates super thick, yet light pancakes. Very delicious!
Lemon Poppyseed Pancakes
yields ~6 pancakes
Pancakes
3/4 cup buttermilk
1 large egg, beaten
1 teaspoon vanilla
2 tablespoons freshly squeezed lemon juice
1 tablespoon unsalted butter, melted
1/2 cup all-purpose flour
1/2 cup whole wheat flour
3 tablespoons sugar
1 teaspoon baking powder
1/2 teaspoon baking soda
1/2 teaspoon salt
1 tablespoon poppy seeds
zest of a whole medium-sized lemon
cooking spray
Heat a griddle to medium-high heat.
In a large bowl, combine the buttermilk, egg, vanilla, lemon juice, and butter.
In a medium bowl, mix together the flours, sugar, baking powder, baking soda, salt, poppy seeds, and lemon zest.
Slowly add the dry mixture to the wet mixture, and mix until uniform.
Let the batter rest for about 5 minutes before ladling the batter onto the griddle.
Cook until bubbles start forming around the edges, flip and cook until both sides are golden brown.
Icing Drizzle
1/2 cup powdered sugar
1 teaspoon lemon juice
1 tablespoon almond milk (or other milk)
1/4 teaspoon vanilla extract
Combine all ingredients in a small bowl and whisk together.
Drizzle over tops of pancakes.
Toppings
maple syrup
fresh blueberries
Top with maple syrup and fresh blueberries if desired. They were a welcome last minute addition when we sat down to eat our pancakes.