Margarita Fish Tacos + Mango Pomegranate Seed Guacamole
The Game of Thrones finale last weekend was less than epic. However, our weekly feast before the show made up for the lackluster episode.
Basically we made a margarita in a large plastic Ziplock bag— lime juice, orange juice, tequila, triple sec, agave syrup, and salt— and let our fish (cod) marinate in it for about 30 minutes before grilling it up and serving it up on corn tortillas with pico de gallo, guacamole, queso fresco, and sour cream.
Don't get me wrong, the fish itself tasted great, but what made our meal so epic was that we made the pico and the tortillas from scratch (all you need is masa harina, water, wax paper and a tortilla press). Dustin had great success making tortillas this time around, so now I think this is something we will be doing on a fairly regular basis. Plus, we made a unique guacamole that incorporated mango instead of tomato (inspired by this recipe from Rick Bayless) and pomegranate seeds for a different and interesting texture. The mango adds some sweetness to complement the spiciness of the jalapeño and the saltiness— a perfect trifecta of flavor. Then to top it all off, we served homemade refried beans to serve on the side— much more on that in the future.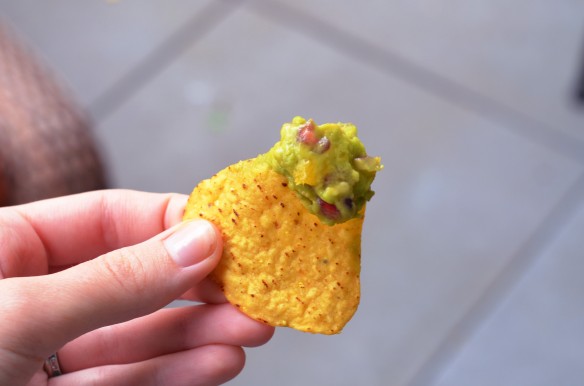 You'll need lots of limes and a bunch of ingredients (pretty much all diced) for this fresh, summery meal, but all of the time and effort of chopping everything is totally worth it!
Margarita Fish Tacos
serves 6
Tacos
1 1/2 pounds true cod fillet
2 limes, juiced
3/4 orange, juiced
1/4 cup agave syrup
1/4 cup tequila
1 tablespoon triple sec
salt
Heat up the grill.
Combine all of the ingredients in a large plastic bag and marinate the fish in the fridge for 30 minutes.
Create an aluminum foil tray in which to cook the fish and place fish on top.
Grill for about 10 minutes.
Mango Pomegranate Seed Guacamole
2 ripe medium sized avocados
1/2 red onion, diced
1/2 jalapeño pepper, seeded diced
small handful of fresh cilantro, chopped
1 medium mango, peeled, pitted, and diced
1 lime, juiced
1/4 orange, juiced
salt, to taste
Mash the avocados.
Add in the diced onion, jalapeño, cilantro, and mango.
Squeeze in the lime and orange juices.
Add salt and mix. Continue adding salt and mixing until desired seasoning is reached. Serve with tortilla chips.
Pico de Gallo
2 tomatoes, diced
1 small red onion, diced
1 jalapeño, seeded and diced
2 limes, juiced
small handful of fresh cilantro, chopped
salt, to taste
Combine all ingredients in a small bowl and adjust flavors to taste.