Momofuku Banana Cream Pie
Last weekend was a busy one for us. Saturday morning we got up early, packed up the puppy and went on an 8.5 mile hike up to Poo Poo Point in Issaquah. We've been saying we wanted to go hiking before we leave Washington, so we finally got off of our butts and went out. We had great views of Lake Sammamish, and if we had been later in the day when there was more wind, we could have even seen people hang gliding. However we had to head back from the trails before all that excitement started because we had afternoon plans— purchasing a car! We bought a Volkswagen Beetle Convertible in a beautiful light blue color. I think it will be a lot of fun to drive to the beach and all around Southern California!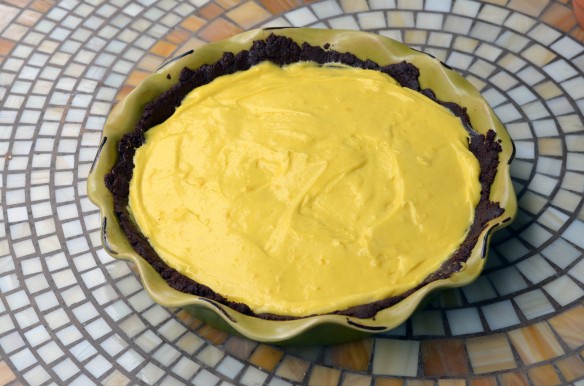 Sunday was the season premiere of True Blood for which we went over to party (the hosts have a large projector in the movie screening room in their house). I decided it would be fun to make the Banana Cream Pie from the Momofuku cookbook, a modern twist on a classic Southern dessert (True Blood takes place in Louisiana in case you didn't know). As usual for a Momofuku recipe, this pie requires making a crumb beforehand to incorporate into the dessert, but as always, it's totally worth the extra step and the time it takes.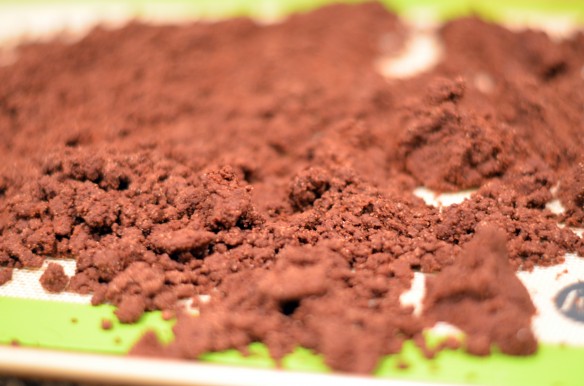 What makes this pie a little different is the slightly salty, not too sweet, but ultra chocolaty crust. The filling is thick, luscious, and full of banana flavor. It also uses food coloring to give the filling a rich yellow color. There were eight of us at the party. Eight slices were cut. We came home with none. I thought there might be a slice leftover for us to take a picture of us, but such is not the case. I may have even been told I should reconsider going to graduate school and instead open a bakery.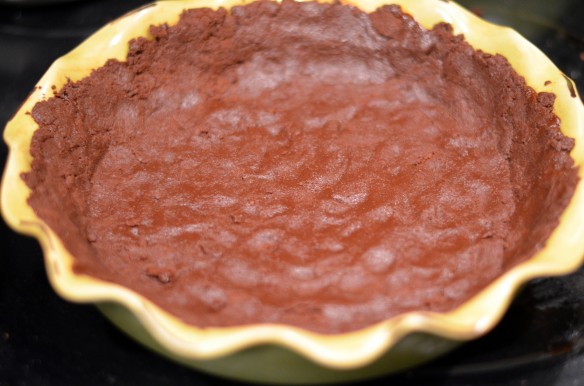 Momofuku Banana Cream Pie
yields 1 10" pie
Chocolate Crumb
2/3 cup flour
1 teaspoon cornstarch
1/2 cup granulated sugar
2/3 cup unsweetened cocoa powder
1 teaspoon salt
6 tablespoons unsalted butter, melted
Preheat the oven to 300º. Line a baking sheet with silicone baking mat or parchment paper.
Combine flour, cornstarch, sugar, cocoa powder, and salt in a medium sized bowl and mix.
Add melted butter and mix until mixture resembles a coarse sand.
Spread on baking sheet and bake for 20 minutes.
Allow to cool completely before using.
Chocolate Crust
3/4 chocolate crumb recipe (1 1/2 cups)
2 teaspoons granulated sugar
1/8 teaspoon salt
1-2 tablespoons unsalted butter, melted
Pulse the crumbs in a food processor with sugar and salt until all pieces are a uniform size.
Transfer to a medium-sized bowl, adding the butter (starting with one tablespoon) until it is moist enough to roll into a ball.
Evenly press the mixture into a 10" pie tin all along the bottom and up the sides.
Banana Cream
2 very ripe (i.e. all brown) bananas
1/3 cup + 3/4 cup heavy cream, divided
1/4 cup milk
1/2 cup granulated sugar
2 tablespoons cornstarch
1/2 teaspoon salt
3 large egg yolks
2 sheets gelatin (or 2 teaspoons powdered gelatin)
3 tablespoons butter
1/2 teaspoon yellow food coloring
1 cup powdered sugar
Combine the bananas, 1/3 cup heavy cream, milk, sugar, cornstarch, salt, and egg yolks in a blender. Blend until smooth.
Transfer the mixture to a medium sized saucepan and heat over medium-high heat until mixture comes to a boil whisking constantly. Cook for two more minutes. The mixture will get VERY thick.
While the mixture is thickening, bloom the gelatin.
Clean and dry the blender and then transfer the mixture back to the blender. Add in the bloomed gelatin, food coloring, and butter. Blend until smooth.
Transfer the mixture to a bowl, cover with plastic wrap, and chill in the refrigerator for an hour.
Using the whisk attachment of a mixer, whip up 3/4 cup heavy cream with the powdered sugar until soft peaks form. Slowly add in the cold banana mixture and whisk until smooth.
Pie Assembly
1 chocolate crust
1 recipe of banana cream
1 ripe banana, freshly sliced
Pour half of the banana cream into the chocolate pie shell.
Cover with a layer of sliced banana.
Cover with remaining banana cream.
Store in the refrigerator. Eat on the day made for best results.