Tex-Mex Refried Beans
I never realized how easy it is to have restaurant-style refried beans in the privacy of your own home until just recently. I probably should have begun trying to make these the minute we left Texas to curb any Tex-Mex cravings (canned refried beans don't even come close to the real deal). Now that we are moving to LA this skill isn't nearly as important, but oh well, we've learned our lesson.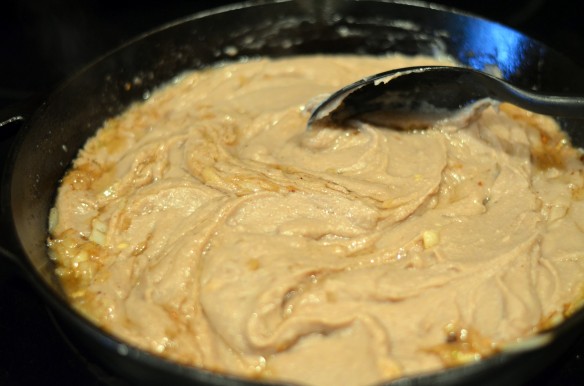 Apparently, lard is most commonly used at real Mexican restaurants, but I had no idea where to buy lard. It's definitely not something they sell at our Whole Foods. Instead, I used bacon grease, which is an acceptable substitute, unlike boring canola or vegetable oil that doesn't impart any of the needed flavor to the beans. I purchased a package of bacon ends and pieces from Trader Joe's on the cheap and used all the drippings from the pan to fry the beans in. Overall, a great compliment to our fish tacos!
Tex-Mex Refried Beans
serves ~6
1 pound dried pinto beans
1/4 cup bacon grease
1 jalapeño, finely chopped
1/2 yellow onion, finely chopped
4 cloves garlic, finely chopped
salt, to taste
Soak dried beans overnight (at least 8 hours) in a large bowl with enough water to cover the beans.
Cook the beans in a crock put out on high for 3 hours until tender.
Once slightly cooled, transfer the cooked beans and about 1/4 to 1/2 cup worth of the cooking liquid into a blender and blend until a smooth bean paste is formed.
Heat the bacon grease over medium heat in a large skillet.
Cook the chopped jalapeño and onion, and cook for several minutes until the onions are soft. Add in the garlic and cook for a minute, followed by the bean paste.
Stir the mixture until the bacon grease is incorporated (6-7 minutes). Beans will be slightly darker in color
Season with salt to taste.
slightly adapted from Homesick Texan Cookbook by Lisa Fain