Thai Peanut Butter, Bacon, Pineapple Burgers
I would never have thought that peanut butter on a burger could be great. With the help of bacon, grilled pineapple, Sriracha, and cilantro, i was proved wrong. There's nothing complicated about this double pattied deluxe burger, but the flavors combine surprisingly well together to turn this unique sandwich into something you'll be dying to make again.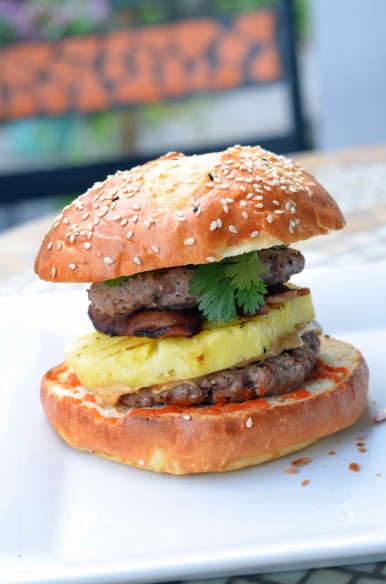 With this recipe we saw on foodgawker, we started assembling our patty. First a toasted Macrina bun, a few squirts of Sriracha sauce, a small thin patty, a big dollop of peanut butter, grilled pineapple (we actually bought a whole pineapple and prepped it ourselves!), crispy thick-cut bacon, another thin patty, and a handful of fresh cilantro from our garden.
That is a tasty burger!