Tom's Tasty Tomato Soup + White Cheddar Paninis
One of the things we will definitely miss about Seattle are all of Tom Douglas' wonderful restaurants. Fortunately, we have the Dahlia Bakery Cookbook to fill the void once we are in Los Angeles. Ever since I received the cookbook in the mail, I've wanted to make the tomato soup in it. When we first tried all of the Tom Douglas restaurants in our first couple of weeks in Seattle, I had the tomato soup at Dahlia Lounge and was left with some very fond memories.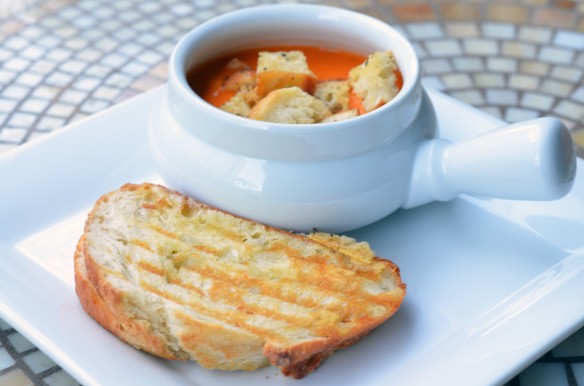 I tried making a healthy tomato soup one time that was in the little cookbook that came with my Vitamix. It was disgusting, so I was weary to try it again until I got the Tom Douglas cookbook and my interest was renewed. Even though it doesn't use fresh tomatoes, Tom's recipe is amazing!
Plus it's topped with homemade brown butter croutons! You can even make grilled cheese croutons if you are feeling up to it, although I chose to stick with the simpler brown butter version since we were making grilled cheese sandwiches on extra crusty bread (extra sharp white cheddar with a variety of dried herbs— oregano, basil, rosemary, thyme, and salt). Cheddar paninis are the perfect complement to tomato soup.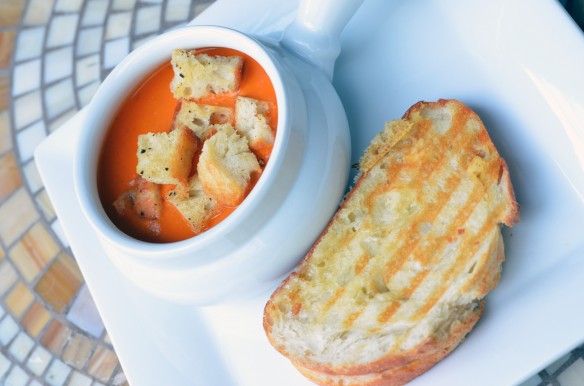 Tom's Tasty Tomato Soup with Brown Butter Croutons
serves 4
Soup
1 tablespoon unsalted butter
1 tablespoon olive oil
1 medium yellow onion, diced
3 cloves of garlic, crushed
5 cups canned whole tomatoes in juice
1 cup water
2/3 cup heavy cream
2 teaspoons kosher salt, plus more as needed
1/2 teaspoon freshly ground black pepper, plus more as needed
1/2 teaspoon crushed red pepper flakes
1/4 teaspoon celery seed
1/2 teaspoons finely chopped fresh oregano
1 tablespoon sugar
Heat the butter and the olive oil in a large saucepan over medium heat.
Add in the onion and the garlic and sauté until the onions are translucent and fragrant.
Add in the tomatoes, water, cream, salt, pepper, red pepper flakes, celery seeds, oregano, and sugar.
Bring to a boil, reduce to simmer and allow to simmer for 15 minutes.
Allow to cool slightly and transfer to a blender or use an immersion blender to puree the soup into a smooth texture.
Return the soup to the saucepan and reheat.
Season with additional salt and pepper.
Serve soup warm with croutons (below) and a white cheddar grilled cheese sandwich.
Brown Butter Croutons
3 tablespoons unsalted butter
4 slices European-style rustic bread cut int 1" cubes (approximately 30)
kosher salt
freshly ground black pepper
Preheat the oven to 350º.
In a small saucepan, melt the butter and heat it up, stirring constantly until the butter has browned and has a nutty fragrance.
Put cubes of bread in a medium sized bowl then pour browned butter over, tossing bread.
Spread the bread cubes on a baking sheet and season with salt and pepper.
Bake in the oven for 18-20 minutes, flipping halfway through.
slightly adapted from Dahlia Bakery Cookbook