Asiago Parmesan Bagels + Whipped Feta
Cheese bagels with an extra cheese flavored cream cheese. What could be better for breakfast for this cheese lover?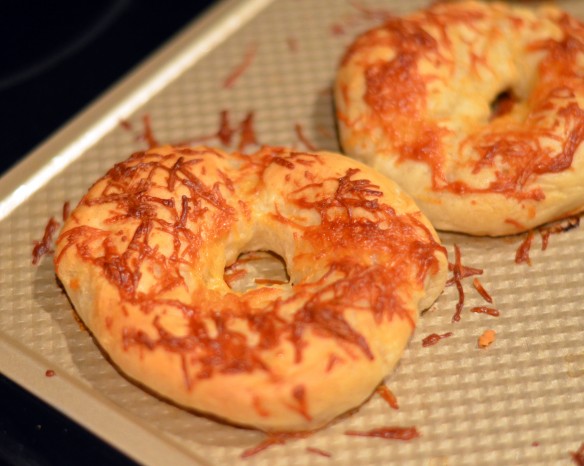 I really enjoyed the crispy texture the asiago-parmesan cheese got when baked up in the oven. It sort of reminded me of the parmesan crisps sometimes served on tomato soup at fancier restaurants. Add creamy, salty feta spread to the top, and these bagels are definitely worth waking up early for.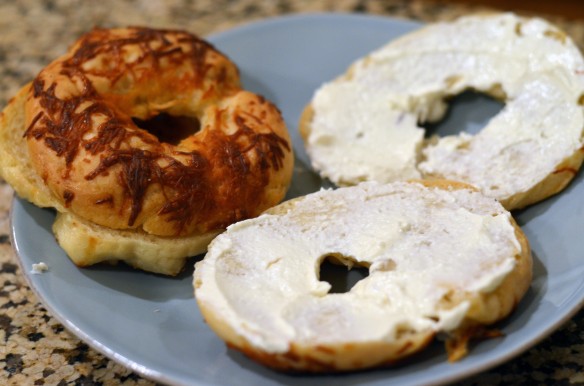 I proofed the yeast and the bagels did grow nice and large; however, after they were baked they did flatten out a little, and I'm not completely sure why since I based the recipe off of my other bagels in the past that came out nice and thick. Maybe something was slightly off with my yeast. The taste was still great, but it did make them slightly difficult to cut.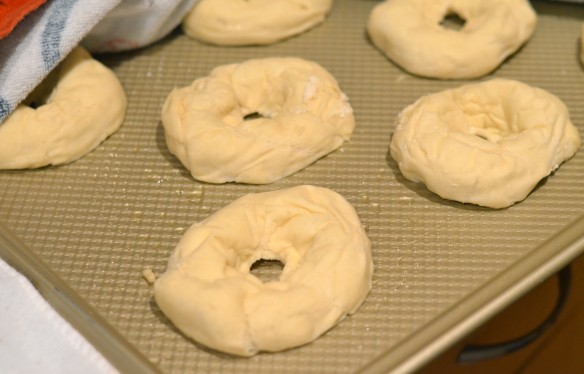 Asiago Parmesan Bagels
yields 16 bagels
Bagels
2 cups warm water
2 packets active dry yeast
2 tablespoons honey
2 cups all-purpose flour
3 1/2 cups bread flour
1 teaspoon salt
2 tablespoons brown sugar
water for boiling
1 1/2 cups grated asiago/parmesan cheese mixture
In the bowl of a stand mixer fitted with a dough hook attachment, proof the yeast in the warm water with the honey for 5-10 minutes until foamy.
With the mixer on low add in the all purpose and bread flours, about 1/2 cup at a time.
Allow the mixer to knead the dough for 7-8 minutes. It shouldn't be very sticky at this point.
With floured hands, transfer to a lightly oiled bowl, cover with a towel and allow to rise until doubled in size (about an hour).
Divide the dough into 16 equally sized balls (each should weight roughly 3 ounces), and use your thumb to make a hole in the center until it looks like bagel.
Place on baking sheets, cover with towels and allow to rise for another hour.
Bring a large pot of water to a rolling boil with the brown sugar and preheat the oven to 425º.
Place each bagel in the water and cook for about a minute on each side.
After boiling, carefully dip the bagels into the cheese mixture (sprinkling cheese on any places that may have been missed) and place back on the baking sheet.
Bake the bagels for 18-20 minutes until fully cooked and the cheese is browned but not burnt.
Allow to cool on the pan before transferring to a wire rack. Cool thoroughly before enjoying with whipped feta.
Whipped Feta
6 ounces crumbled feta, softened
3 ounces cream cheese, softened
Combine the feta and the cream cheese in a food processor and process until completely smooth and fluffy.