Cinnamon Sugar Pie Scraps
We got so busy posting other recipes that we haven't yet shared what we did with the leftover pie scraps from the 4th. When I made the lattice top peach pie, I had quite a bit of extra dough with which I thought I would make this super easy dessert. I stored them in the fridge shaped exactly as they were, then I baked them up with a generous dose of cinnamon and sugar. The pieces were still pretty thick, so they were a little on the soft side. If you want a crunchier treat, more like a cinnamon sugar pita chip, I would bake them longer.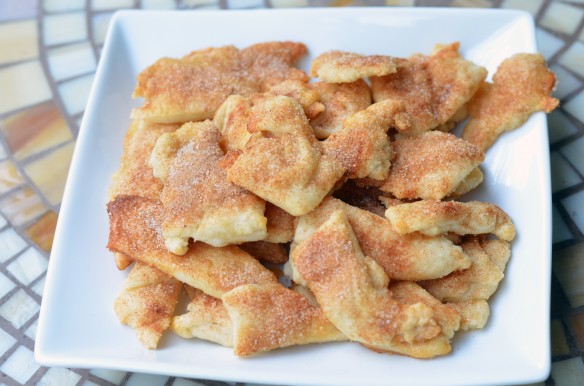 These are so simple, but smelled so heavenly coming out of the oven. They smelled exactly like the cinnamon twists from Taco Bell from my youth. Obviously they didn't have the same texture, but they were soft and buttery instead. Pure perfection in my book.
Since I didn't share the recipe for the dough last time around, I will today— it's the all butter, really flaky pie dough from the Smitten Kitchen Cookbook (and blog). However you can really use any pie dough.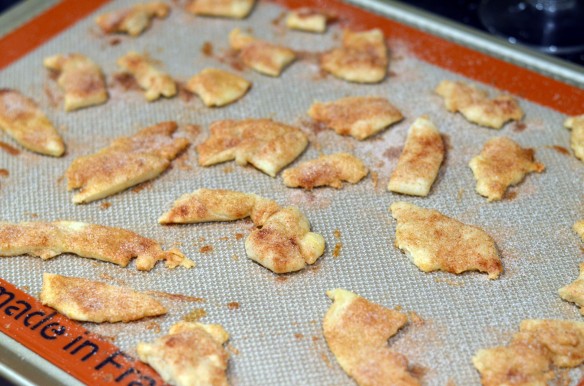 Cinnamon Sugar Pie Scraps
Scraps
serving size varies
leftovers from pie dough (recipe below)
1 egg, beaten
cinnamon
sugar
Preheat oven to 375º. Line baking sheet with parchment paper or silicone baking sheet.
Spread pie dough scraps out on baking sheet.
Brush with egg.
Sprinkle cinnamon and sugar on top.
Bake for approximately 13 minutes and edges are golden brown or longer for a crispier treat.
Pie Dough
yields enough for 1 double crust 9" pie with leftover scraps
2 1/2 cups flour
1 tablespoon sugar
1 teaspoon salt
1 cup unsalted butter, cold and cut into 1/4" pieces
1/2 cup water, ice cold
Combine the flour, sugar, and salt in the bowl of a food processor (you can also do this by hand, but this method is much easier).
Cut in the butter until the pieces are the size of peas. Don't overmix (if doing by hand, use a pastry blender or just a fork).
Slowly add the water to the flour and butter mixture until a dough forms. You may need another tablespoon or two of ice cold water, but don't add too much too quickly. It's easy to add more, and you don't want to ruin your dough.
Divide the dough into two flattened discs. Wrap in plastic wrap and store in the fridge until ready to use for up to a week. It can also be frozen and defrosted in the fridge the day before you want to use it. Allow to sit out for about 10 minutes before rolling out with a rolling pin.
from Smitten Kitchen
And yes, the two of us basically ate this whole plate of pie scraps in one sitting.