Great American Double Doozies
One of my favorite things about hanging out at the mall and shopping with friends in middle and high school was that we'd share a slice of cookie cake from The Great American Cookie Company— more bang for your buck, which you could save for the clothing stores, rather than buying the Double Doozies. However, if nobody was willing to share, then I'd order myself a mini Double Doozie (or occasionally the full-on Double Doozie— this was in my pre-health consciousness days). There's nothing better than frosting sandwiched between two slightly soft cookies. Side note— Sam's Club does it right and makes cookie cakes like Double Doozies (also comsumed in our pre-health consciousness days as birthday treats), for a lot less money, too.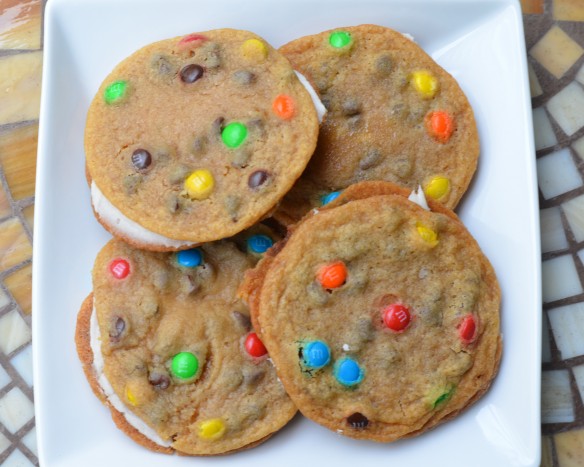 The texture of these cookies is not exactly what I was going for. The cookies from Great American are soft, but they are relatively thin and are able to maintain their shape when you pick them up. My cookies were too thin and when you picked them up they were prone to bending and breaking. I chilled the dough for about an hour, but the cookies still spread too much during baking. I would probably let the dough chill overnight if making these again, which I think would have helped this batch.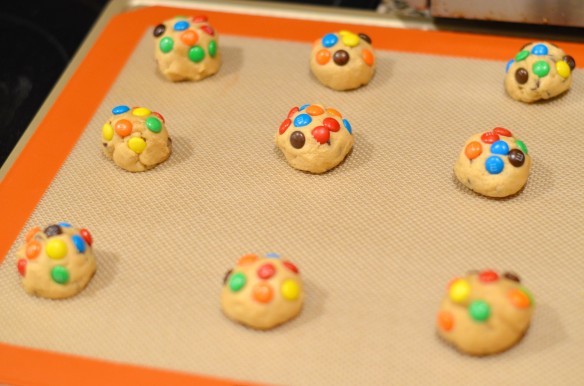 Some tips I know for keeping cookies soft are using lots of brown sugar compared with white sugar, as well as an extra egg yolk and cornstarch, so I incorporated those things into my recipe. Flavor-wise I was super happy with how they came out.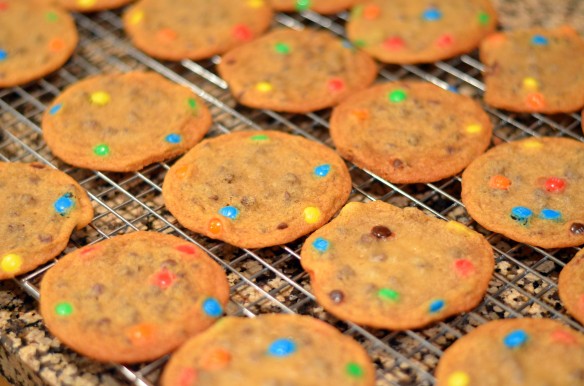 There is also not nearly as much frosting as there should have been layered between these cookies because I ran out of powdered sugar when I was making the frosting. I only made a half batch of the frosting, so with the recipe below that ratio problem is remedied.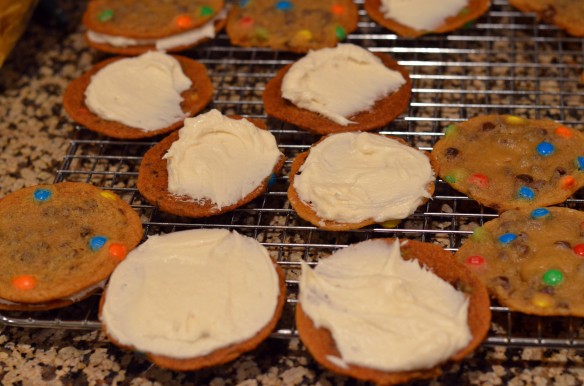 Great American Double Doozies
yields approximately 1 1/2 dozen sandwich cookies
M&M Chocolate Chip Cookies
1 2/3 cup all-purpose flour
1 tablespoon cornstarch
1 teaspoon baking soda
1/2 teaspoon salt
1 cup light brown sugar, packed
1/4 cup granulated sugar
2/3 cup unsalted butter, softened
1 large egg + 1 egg yolk
2 teaspoons vanilla extract
1/2 cup mini chocolate chips
1/2 cup M&M minis
In a medium-sized bowl, sift together the flour, cornstarch, baking soda, and salt.
Cream together the butter and the sugars in the bowl of a stand mixer for several minutes until light and fluffy.
Add in the egg and yolk as well as the vanilla until smooth.
Slowly add the dry mixture to the wet mixture and mix on low speed until just combined.
Fold in the mini chocolate chips.
Chill the dough in the refrigerator, overnight if possible.
Preheat the oven to 350º and line two cookie sheets with parchment paper or silicone baking mats.
Use a cookie scoop to portion out equal sized balls of dough onto the baking sheet.
Press M&M minis on to the tops of the cookies without smashing the ball down too much.
Bake for 8-9 minutes until the edges are golden but the middles are still soft.
Allow to cool on the baking sheet for several minutes before transferring to a wire rack to cool completely.
Once cookies are completely cooled, spread frosting on the bottom of a cookie and place another cookie on top to create a sandwich.
Store at room temperature in a sealed container.
Icing
1/2 cup unsalted butter, softened
1/2 cup shortening
1 1/2 teaspoons vanilla extract
4 cups powdered sugar
1/4 cup + tablespoons milk
Cream together the butter and the shortening in the bowl of a stand mixer.
Add the vanilla extract, continuing to mix.
Slowly add the powdered sugar with the mixer on low.
Slowly add in the milk, one tablespoon at at time, until desired consistency is reached.