Healthy Milkshake
Our apartment in Washington gets hot during the summer. All we have are stand fans that don't do a great job of circulating air (I know... no air conditioning is crazy to a Texan), so it gets really stagnant during the day. If I could I would eat ice cream and milkshakes all day to cool myself off. As you might know, I already eat a lot of ice cream with Dustin in the evening, so I try to stick to slightly healthier options during the day.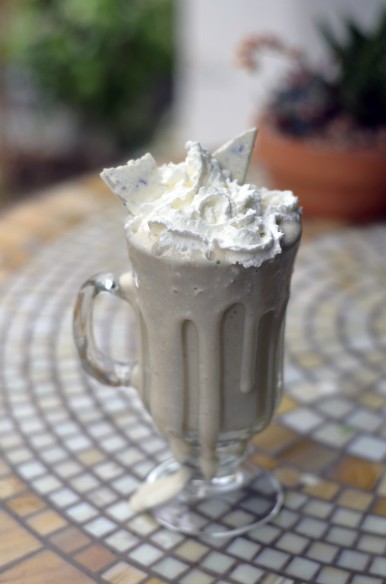 Frozen bananas, blended, make a great faux-ice cream, which along with Greek yogurt give me a fruit and protein-filled healthy milkshake. I also add one of my own baked treats or something sugary to give it a little sweetness, and sometimes if we have whipped cream topping on hand I'll add a bit of that, too. The picture you see here is made with blackberry bark (white chocolate and dried blackberries) we got from a drive up to Snoqualmie Falls, testing out the new convertible! Yes, this milkshake was overflowing from the glass!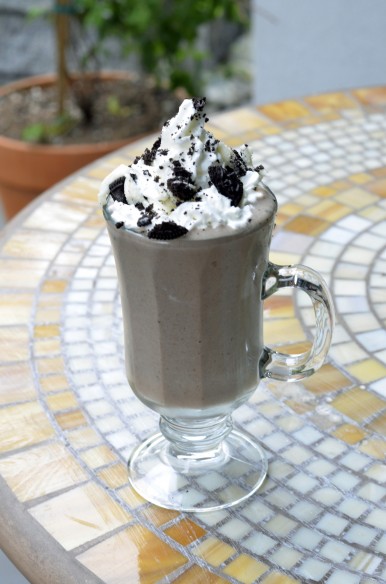 Oreos are another favorite add-in!
Healthy Milkshake
serves 1
1 ripe banana, frozen
1/2 cup Non-Fat Greek yogurt
1/2 teaspoon vanilla extract
1 cookie, miniature candy bar, etc.
milk (optional)
whipped topping (optional)
Blend frozen banana, yogurt, vanilla extract, and treat until smooth.
Add in a splash of milk if you need to thin it out (I usually use vanilla almond milk).
Swirl on some whipped topping and serve.