Individual Sangria Cobblers
We've been on dessert overload lately, but when I saw a recipe for sangria cobbler I was dying to make it. The 4th of July dessert were already planned, so I made these into individual desserts baked in ramekins for just the two of us and froze the rest of them.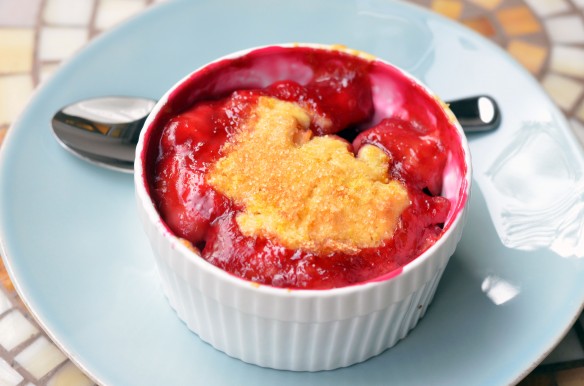 Whenever I eat cobbler at places, I'm usually disappointed since they rarely are made with fresh fruit, so this one really takes the cake. I loved the multiple kinds of fruit in the sweet wine sauce.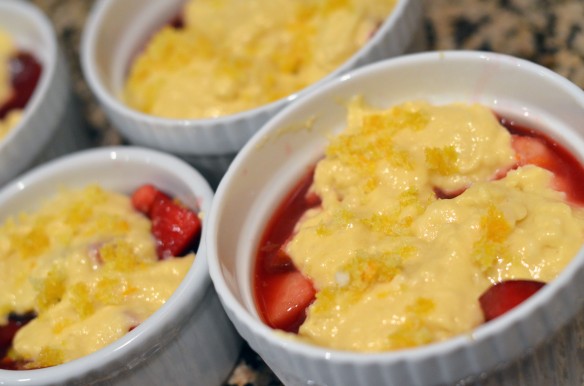 Individual Sangria Cobblers
makes 6 individual cobblers; slightly adapted from Confections of a Foodie Bride
Filling
2 plums, chopped
1 cup bing cherries, pitted
1 apple, diced
1 orange, juiced and zested (1/2 of zest reserved)
1 lemon, juiced and zested
3/4 cup red wine (I used Pinot Noir)
1/4 cup sugar
2 tablespoons cornstarch
Preheat the oven to 375º.
In a large bowl combine all of the fruits and zest.
Mix red wine, sugar, and cornstarch, and add to fruit.
Divide the mixture evenly between 6 ramekins.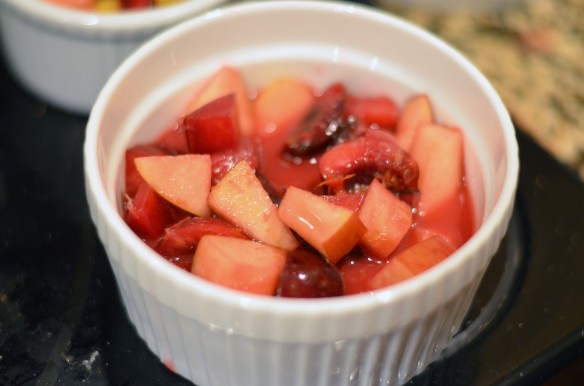 Topping
1 1/4 cup whole wheat flour
3 tablespoons granulated sugar
1 1/2 tsp baking powder
Pinch of salt
1 egg
1/2 cup buttermilk
2 Tbsp melted butter (I used Earth Balance with success)
2 tablespoons raw turbinado sugar
In a small bowl, combine the flour, granulated sugar, baking powder, and salt.
In a medium bowl, combine the egg, buttermilk, and butter.
Slowly add the dry ingredients to the wet ingredients and mix until just combined.
Dollop over the fruit mixture (you don't have to cover the whole top).
In a small bowl, mix the turbinado sugar and orange zest and sprinkle over the top of the fruit mixture.
Bake for 35-40 minutes until the biscuit topping is lightly browned, and the filling is bubbling and oozing.
Let rest for 15 minutes before eating.