Patriotic Chocolate Chip Waffles with Bourbon Maple Syrup
The 4th of July party and all of the desserts were a success. We started baking at 7 AM, but before that, we ate a delicious and somewhat decadent breakfast— buttermilk chocolate chip waffles with bourbon maple syrup, decorated to look like an American flag with blueberries, strawberries, and whipped cream.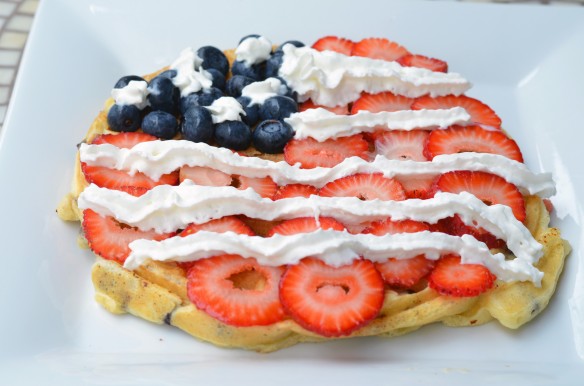 I definitely dug the bourbon maple syrup and think I'll have to use that again— maybe with fried chicken and waffles or something crazy. The waffles themselves were really great— a classic recipe to which you could add fruits, nuts, or anything of the like.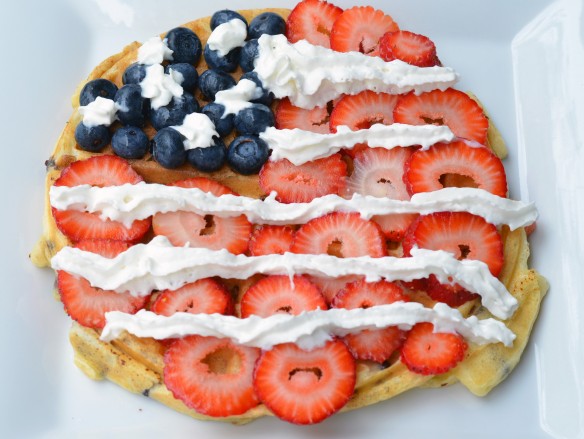 More on our party desserts in the next few days! There were plenty of options!
Chocolate Chip Waffles with Bourbon Maple Syrup
yields 4 waffles
1 cup all-purpose flour
1/2 baking powder
1/4 teaspoon salt
1 egg, beaten
1 cup buttermilk
2 tablespoons unsalted butter, melted
1/3 cup mini chocolate chips
1/2 cup pure maple syrup
1 shot bourbon
strawberries
blueberries
whipped cream
Mix flour, baking powder, and salt in a medium sized bowl.
Make a well in the middle of the bowl and add the egg, buttermilk, and butter.
Fold in the chocolate chips.
Pour into a waffle maker and cook according to maker's instructions. Keep waffles warm in toaster oven or oven.
In a small saucepan, heat the maple syrup and the bourbon. Bring to a boil and reduce to simmer. Allow to simmer for about 3 minutes.
Pour syrup over waffles and then, to make them patriotic, use the strawberries, blueberries, and whipped cream to decorate the waffle to look like the American flag!
recipe adapted from Food.com