Peanut Butter Fudge Ripple Ice Cream
I didn't specifically make this for the party, but we had leftovers, and it was just so delicious that we wanted to share. Amazingly enough, it actually isn't made with any heavy cream. I found the base of this recipe online and figured it would be a good time to use up some cans of sweetened condensed and evaporated milk sitting in the pantry. With us moving in just over a month (omg we need get planning!), we need to start clearing out the cabinets.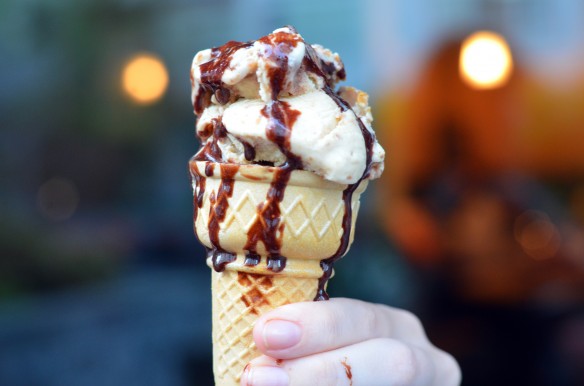 I think it actually turned out to be some of the best ice cream I've made to date. I wanted to include a fudge ripple through the middle. I feel like all of the best ice creams you can buy from Ben and Jerry's or any other brand have some sort of ripple whether it's a fudge or icing of some sort. Plus, what is peanut butter without a little chocolate?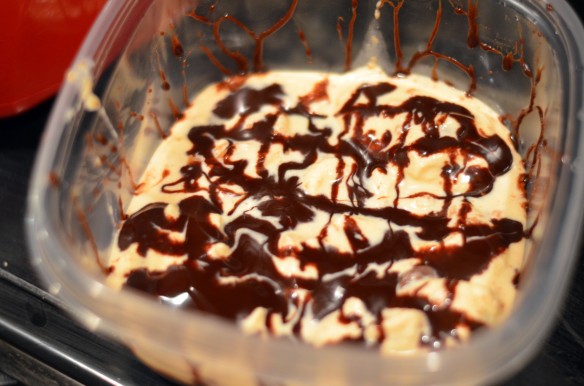 The fudge sauce used for the ripple makes quite a bit more than you need (at least for me it did), but you can just use it as a hot fudge topping like we did for an extra chocolatey treat!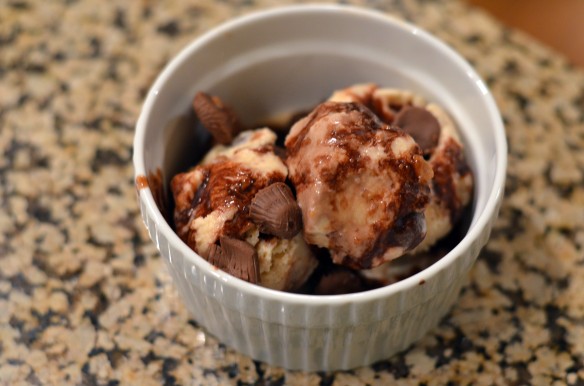 Peanut Butter Fudge Ripple Ice Cream
ice cream adapted from AllRecipes.com; fudge ripple from The Perfect Scoop by David Lebovitz via Epicurious.com
Ice Cream
1 14-ounce can sweetened condensed milk
1 12-ounce can evaporated milk
1 1/4 cups 2% milk
2/3 cup creamy peanut butter (no sugar added)
1/3 cup granulated sugar
2 teaspoons vanilla extract
3/4 cup mini peanut butter cups (I got mine from Trader Joe's, but you can also use chopped Reese's peanut butter cups)
Fudge ripple (recipe below)
In a medium sized saucepan, combine the condensed milk, evaporated milk, milk, peanut butter, and sugar until the sugar is dissolved and the mixture is smooth.
Remove the pan from the heat and add in the vanilla extract.
Allow to cool to room temperature and then transfer to a bowl. Cover with plastic and store in the refrigerator until thoroughly chilled (at least 4 hours, but preferably overnight).
Process in ice cream maker according to manufacturer's instructions. Add mini peanut butter cups in the last 3-4 minutes of churning.
Drizzle a layer of the fudge sauce on the bottom of a freezer-safe container. Add a thin layer of the ice cream. Drizzle another layer of fudge sauce followed by a layer of ice cream until you have used up all of your ice cream.
Store in freezer and serve when desired consistency is reached. Top with hot fudge and even more peanut butter cups!
Fudge Ripple
1/2 cup granulated sugar
1/3 cup light corn syrup
1/2 cup water
6 tablespoons unsweetened cocoa powder
1/2 teaspoon vanilla extract
Whisk the sugar, corn syrup, water, and cocoa powder in a small saucepan.
Bring to a rolling boil over medium heat, stirring constantly. Cook for another minute.
Remove from heat, stir in vanilla extract, and allow to cool.
Transfer to a glass jar and store in the fridge. Allow to chill and thicken thoroughly before using (best done at least a day before).
Bonnie is laser focused on ice cream. She got Wag-gurt instead!