Red, White & Bleu Mac 'n' Cheese
Last year I saw a recipe on the 4th of July for red, white, bleu macaroni and cheese. Not having the ingredients to make such a dish on a whim and thinking it wasn't nearly as exciting to make after the holiday, I made a mental note to make my own version of this "patriotic" dish when the the 4th rolled around next time. Well here we are, July 2013, and here is my version of red, white, and bleu macaroni and cheese.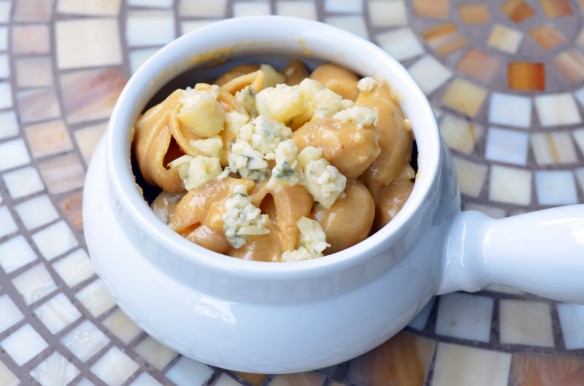 The  version I saw last year focused on the color of the mac 'n' cheese, using monterrey jack and white cheddar to give it a white color (in addition to bleu cheese of course). The red part came from roasted tomatoes. That was cool (and obviously inspired this recipe), but I wanted the "colors" all to come from the cheese, so I used RED Leicester, extra sharp WHITE cheddar, and Rogue Creamery smoky BLEU cheese. The Red Leicester made the mac 'n' cheese your standard yellow color, but I personally like my version better!
The flavors of all three cheese varieties come together seamlessly. I thought about adding some breadcrumbs to the top and baking it, but our air-conditioning-less apartment in the midst of Seattle's heatwave was hot enough as it was without me turning on the oven. Thus, it stayed a stovetop macaroni and cheese and was equally delicious.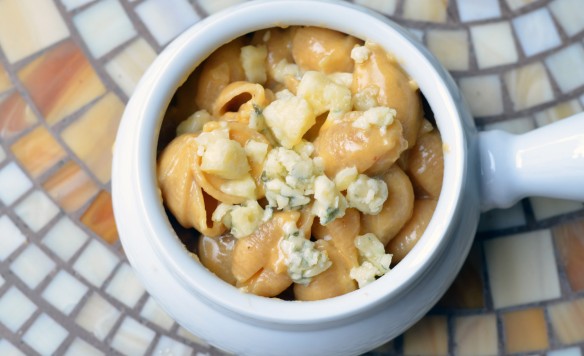 After a year of anticipation for this dish, it definitely lived up to the hype in my mind! And sorry if you too now have to wait a year to try this out!
Red, White & Bleu Mac 'n' Cheese
serves 5
1 lb whole wheat pasta shells
2 tablespoons unsalted butter, melted
1 clove garlic
1/2 red onion chopped
2 tablespoons whole wheat flour
2 cups milk (low fat works)
1 tablespoon Worcestershire sauce
6 ounces Red Leicester cheese, freshly shredded
6 ounces extra sharp white cheddar cheese, freshly shredded
6 ounces bleu cheese, crumbled (plus extra for garnish)
salt, to taste
pepper, to taste
Bring a large pot of water to a boil. Cook the pasta until al dente then remove from heat. Drain and set aside.
In a large pan, melt the butter and cook the garlic and the onion over medium-high heat until fragrant and translucent.
Add the flour and whisk for about a minute to make a roux.
Slowly add in the milk, stirring constantly.
When the milk mixture begins to bubble and thicken, slowly begin adding all three cheeses, whisking as you go.
Season cheese sauce with salt and pepper.
Add the pasta shells into the cheese sauce and coat shells with sauce.
Serve with extra bleu cheese crumbles.