Salmon Burgers with Horseradish Mayo
Salmon burgers were a regular part of our repertoire back at Rice, but we just bought pre-made ones from Whole Foods. Now that we pretty much live in the salmon capital of the world, I can't believe we haven't yet tried to make our own. Since we are moving in less than a month and we are getting some great looking salmon for very reasonable prices at the market, we figured it was about time to change this.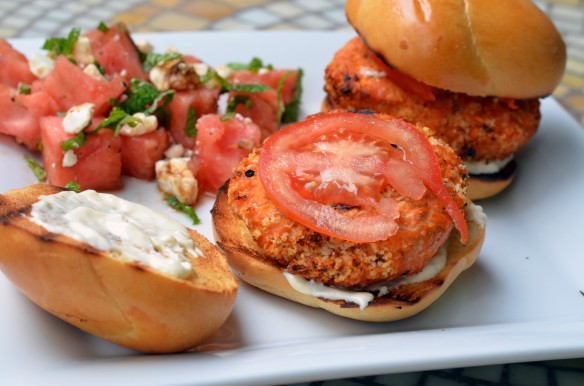 To give these salmon burgers a little kick we topped them off with a horseradish mayonnaise, kind of like eating salmon with wasabi at a sushi restaurant.
The only negative to these burgers is the potential cost of buying fresh salmon, but they are incredibly easy to make— not that much more difficult than cooking up the pre-made ones!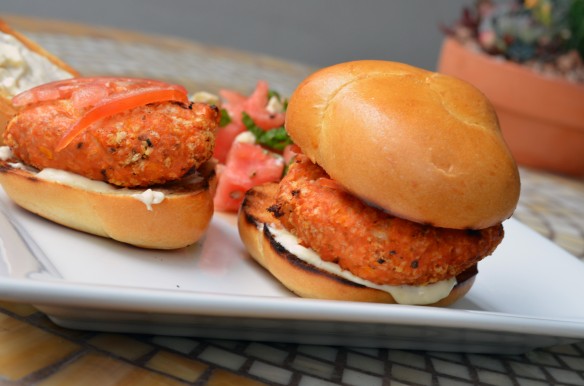 Salmon Burgers with Horseradish Mayo
Burgers
serves 2
1 1/4 lb salmon, skinned and chopped
1/2 orange bell pepper, choppeed
1 clove garlic
1 tablespoon soy sauce
1/2 lemon, juiced
1/2 cup panko bread crumbs
salt
pepper
2 hamburger buns
1 tomato, sliced
Horseradish mayonnaise
Combine the salmon, bell pepper, garlic, soy sauce, lemon juice, and bread crumbs in the bowl of a food processor and pulse a few times until everything just comes together.
Form into two patties and place between sheets of wax paper. Allow to sit in the fridge for at least 30 minutes to solidify.
Heat up the grill.
Season patties with salt and pepper and then grill until cooked through (about 5 minutes on each side).
Serve on toasted buns with sliced tomato and horseradish mayo.
Horseradish Mayonnaise
1/2 cup mayonnaise (we used light mayo)
1 teaspoon horseradish (start with that and adjust to taste)
Throughly mix the mayo and horseradish together in a small bowl. Can be prepared in advanced.
I can't believe we will no longer be living here next month, although we are excited to explore a new city, especially after reading this article on why LA may be better than New York! Let's hope!