Watermelon, Feta, Mint Salad with Balsamic Dressing
Watermelon definitely isn't Dustin's thing, and it isn't really mine either. But I know watermelon, feta, and mint are a pretty popular combination, so Dustin was a good sport and tried this out with me. Neither of us loved it, but agreed it is definitely a much better way to eat watermelon than we'd ever had before. In the end we were both really glad we tried it out to work on our palettes to see how different flavors pair together. Even though it sounds a little weird, the sweet melon goes well with the salty feta and is really enhanced by the mint and the subtle balsamic vinegar.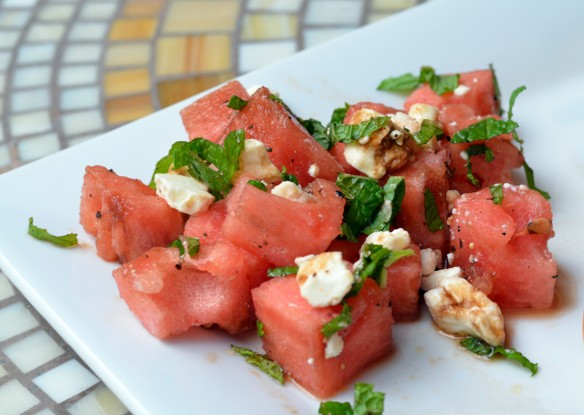 Watermelon, Feta, Mint Salad with Balsamic Dressing
serves 2
1/4 medium watermelon, cubed
4 ounces feta, crumbled
8 mint leaves
1/4 cup olive oil
2 tablespoons balsamic vinegar
salt, to taste
pepper, to taste
Chiffonade the mint leaves.
Toss the watermelon cubes, feta crumbles, and mint leaves in a large bowl.
In a jar combine the olive oil and balsamic vinegar and shake vigorously.
Drizzle the dressing over the salad.
Season with salt and pepper.