Watermelon Margarita
We may have thought that watermelon, feta, mint salad was the best way to eat watermelon, but it's definitely not. Actually it's with tequila and Cointreau in the form of a margarita. We used the leftover watermelon from the salad to make margaritas the following evening. The watermelon is actually pretty subtle in this recipe and refreshing for a summer evening.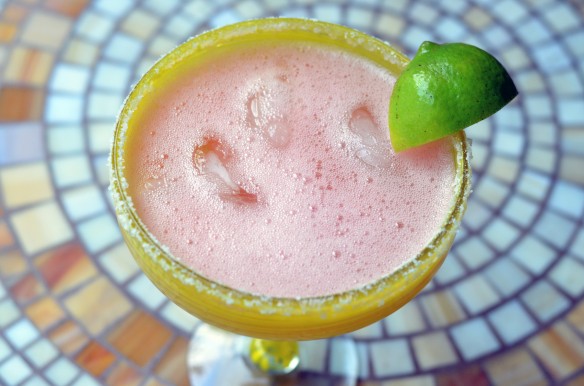 Watermelon Margarita
serves 2
2 cups cubed watermelon, seeds removed
1/4 cup agave nectar
juice of 2 limes
3 shots tequila blanco
1 shot orange liqueur (we used Cointreau because that's all we had, but triple sec would be totally appropriate)
1 1/2 cups ice
salt, for the rim
Combine all ingredients in a blender.
Using the juiced lime, coat the edge of a cold margarita glass with lime juice and then dip in salt.
Pour into glass and enjoy!
And here's proof that at some point in his life, Dustin liked watermelon. Dustin would like to add that as far as evidence goes, it looks more like a strawberry than a watermelon.