Whole Lemon Bars
As much as we both love a good fruit pie,when we order dessert, both Dustin and I will almost always gravitate towards something chocolate, covered in caramel, and loaded with ice cream. Every once in awhile though, I will have an intense craving for something fruity, and usually that fruity dessert is something with lemon, like lemon meringue pie or lemon bars. Maybe it's because one of my dad's favorite desserts is lemon meringue pie, and my mom and I often made it for him from a box for his birthday, that I crave something lemony tart and sweet.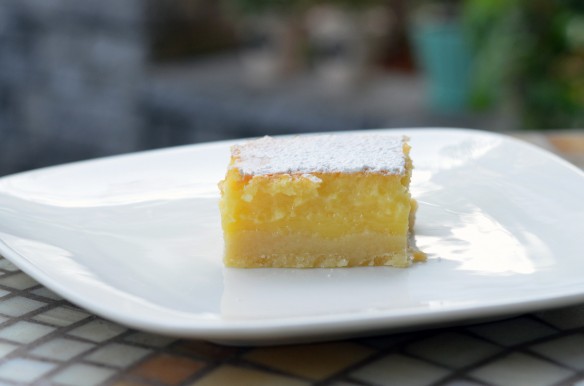 I will admit that lemon bars are one of those desserts you often see on dessert trays bought from grocery stores and are often done poorly. The filling is bleh, the crust tastes like cardboard, and they just feel generally very processed— a dessert that is easy to say "no thank you" to. This is apparently the only kind of lemon bar Dustin had ever consumed prior to these ones I made. Every time I mentioned lemon bars, he got this sour look on his face (as though he were eating a lemon). He did it so much I threatened to not let him even have a taste of my delicious, homemade lemon bars. He begrudgingly stopped dissing lemon bars, and I let him have one.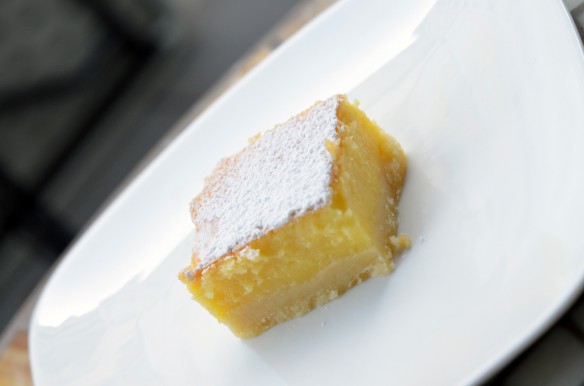 One bite into the buttery, pie-like crust and sweet custardy filling, and he said I changed his mind. Lemon bars, in fact, CAN be extra delicious! He even wanted seconds!
I was super into the idea of making this particular recipe because it involves using a whole lemon. Yes, an entire whole lemon, peel and juice (seeds removed), sliced and put into the food processor with all of the other ingredients to make a delicious and ridiculously easy lemony filling. It sounded too interesting and adventurous for the foodie in me to pass up trying. Plus, it got a lot of rave reviews around the web. I'd have to agree with them all. Apparently so did Dustin's co-workers, as he said the leftovers went fast at work the next day!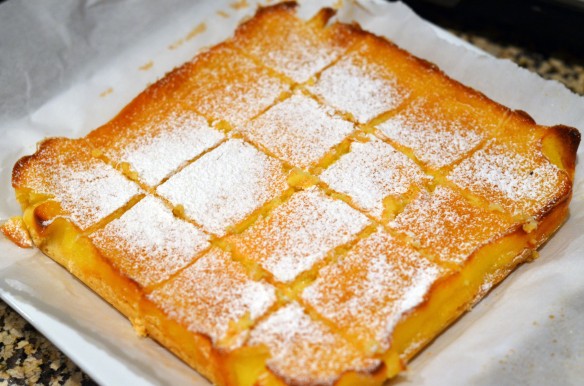 Whole Lemon Bars
yields 1 8"x8" pan
Crust
1 cup all-purpose flour
1/2 cup granulated sugar
1/4 teaspoon salt
1/2 cup unsalted butter, cut into chunks
Preheat the oven to 350º. Line an 8"x8" baking pan with parchment paper leaving some paper hanging over the edges. Spray with non-stick cooking spray.
Pulse the flour, sugar, and salt in the bowl of a food processor.
Add butter and pulse until mixture is powdery, but when pinched will hold it's shape.
Press the mixture into the pan. Use a fork to press holes all around the crust.
Bake for 20 minutes, until lightly browned. Transfer pan to a cooling rack. Leave oven on.
Filling
1 medium sized lemon (about 3 inches long)
1 1/3 cups granulated sugar
1/2 cup unsalted butter, cut into chunks
4 large eggs
2 tablespoons cornstarch
1/2 teaspoon salt
powdered sugar, for sprinkling on top
Cut the lemon in half. If the white of part of the lemon skin is greater than 1/4" thick, you will want to remove the skin of one half of the lemon, so your bars are not too bitter. To do this, place the lemon cut side down on a cutting board and remove the skin and pith with downward cuts (here is a helpful diagram of a lemon for reference).
Cut the lemon into thin rings and discard seeds. Place the lemon rings it the bowl of a food processor and process with the sugar until smooth.
Add in the butter and pulse until incorporated.
Add in the eggs, cornstarch, and salt. Process until smooth.
Pour the filling over the crust and bake for 35 minutes or until golden brown around the edges and the center is no longer jiggly.
Allow to cool to room temperature then place in the refrigerator for at least an hour before slicing. Sprinkle tops with powdered sugar.
from the Smitten Kitchen Cookbook by Deb Perelman