Berry Salsa
I needed something to serve with a bag of cinnamon sugar pita chips I had lying around, but I didn't want this something to venture too far over into dessert territory because I wanted to serve it as an appetizer. The first thing that kept popping in my head was a cheesecake dip, but that definitely skewed towards dessert and seemed a little too rich to be a starter. Next, I seriously thought about driving to Trader Joe's specifically to buy their blueberry goat cheese to serve with the pita chips, but then I thought why not make a blueberry salsa instead?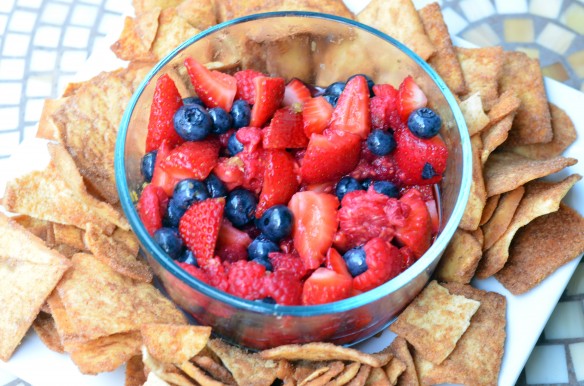 We were at Pike's Place where we picked up fresh blueberries along with juicy strawberries and raspberries. I was planning on including blackberries as well, but to my surprise the fruit stand we were at didn't have any. We would have walked to another stand, but there were a million tourists milling about, and we had Bonnie with us. As you know, Bonnie is not a big fan of people, so she was having mini freak-outs and we wanted to get our stuff and get out!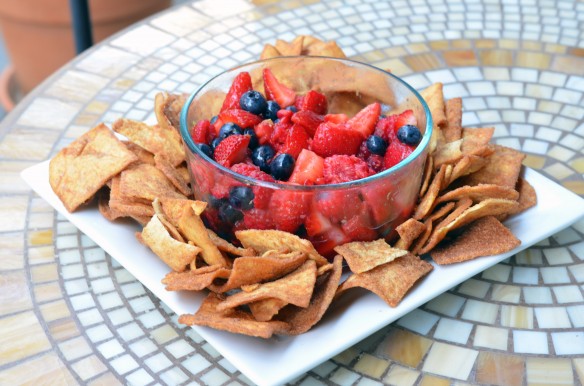 Make this before summer is over and all of the fresh berries are gone!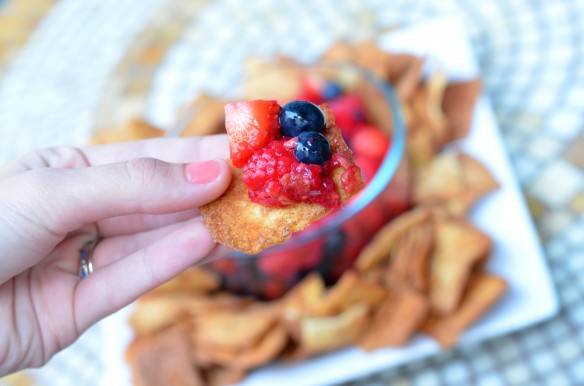 Berry Salsa
3/4 cup blueberries
3/4 cup raspberries, cut in half
3/4 cup strawberries, quartered
1 lime, juiced and zested
2 teaspoons sugar
Combine all berries in a bowl.
Squeeze lime juice over the top followed by the lime zest and a sprinkling of sugar.
Toss together.
Refrigerate before serving with cinnamon sugar pita chips.