Blue Banana Smoothie
When making smoothies at home, we were in a bit of a rut. We always mixed yogurt with bananas and some variation of berries or maybe mango if we were feeling a little adventurous and wanted to go tropical. I was a little tired of smoothies, truth be told. Until I ordered the Blue Banana smoothie at the Pro Club's cafe after a particularly tough spin class.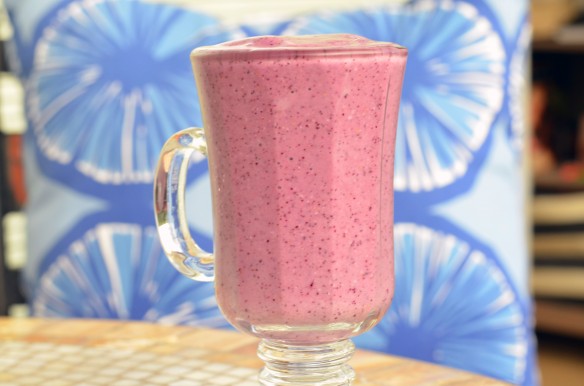 Maybe it was purely because the smoothie had hints of coconut, which I now am mildly obsessed with, but that was a damn good smoothie, and every other one I have eaten since has paled in comparison. Smoothies at the Pro Club aren't cheap and should be reserved for a special treat, so I wanted to make my own Blue Banana at home for an everyday, healthy breakfast.
As you might be able to guess, the two main ingredients of the smoothie are blueberries and banana, but the smoothie is also tinged with pineapple and the coconut as previously mentioned. I like keeping frozen bananas in the freezer at all times to give my smoothies an extra creamy texture, which I think is necessary for you to experience the awesomeness that is the Blue Banana. Now I can enjoy this refreshing smoothie from the comfort of my own home/couch without having to go through a butt-kicking workout beforehand!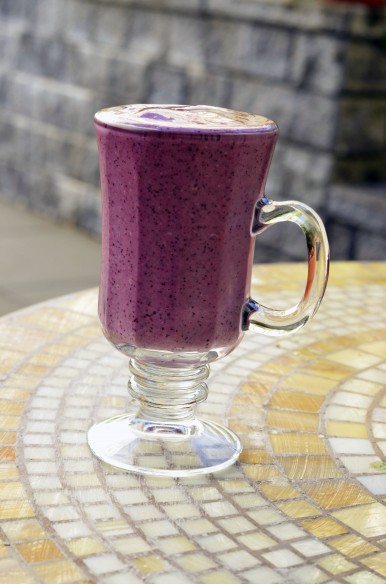 Blue Banana Smoothie
serves 2
1 banana, cut into chunks and frozen
3/4 cup blueberries, fresh or frozen
1/4 cup pineapple, fresh or frozen
1/2 cup coconut water + additional for thinning out if desired
1/2 cup 0% Greek vanilla yogurt
2 tablespoons sweetened shredded coconut
Combine all ingredients in a blender and blend until smooth.
If smoothie is too thick add some additional coconut water (or almond milk).