Fried Oyster Sliders
Before I met Dustin if you'd have told me that I'd like oysters, even fried ones, I would have looked at you like you were a crazy person. I think that just goes to show that with a willingness to try new foods, your palette will grow, and you will learn to like love things you'd never have thought possible. Oysters are definitely one such thing for me. I wouldn't have even attempted to eat a slimy, raw oyster or even a fried one because I just assumed I wouldn't like it. Now I will slurp them down and/or fry them up!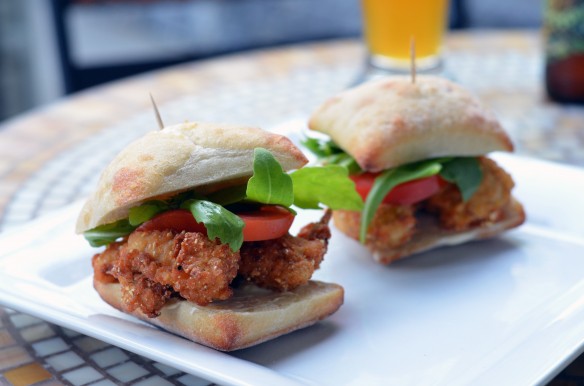 It's pretty cool how frying no longer scares us. After our incident making fries in the mini deep fryer, I thought we'd never successfully fry, but now in our large 8 quart stainless steel pot, we do it like pros. These fried oysters came out perfectly crispy on the outside, but nice and soft on the inside, just like you'd get from a seafood shack. We were a little nervous since we had never shucked oysters going in. Guess what? We still haven't because the super nice, super awesome fish guy at our Whole Foods offered to do it for us while we finished our shopping when we told him what we were planning. That guy has helped us out before and definitely deserves a raise!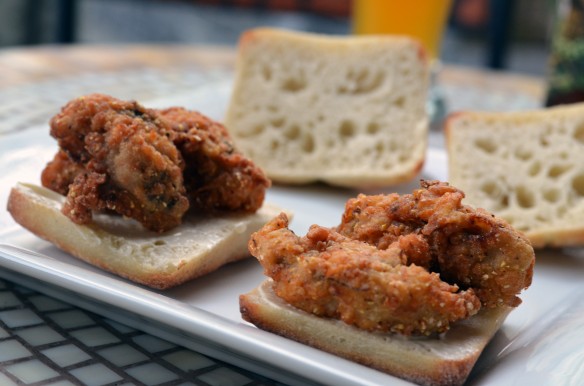 Using masa harina and cornmeal as well as buttermilk gave it a great fried coating and really made these sliders feel like the fried sandwiches you might get in the south along the Gulf Coast. Served with a little mayo, arugula, and tomato, these sliders were actually pretty easy to make and a great way to cap off the weekend!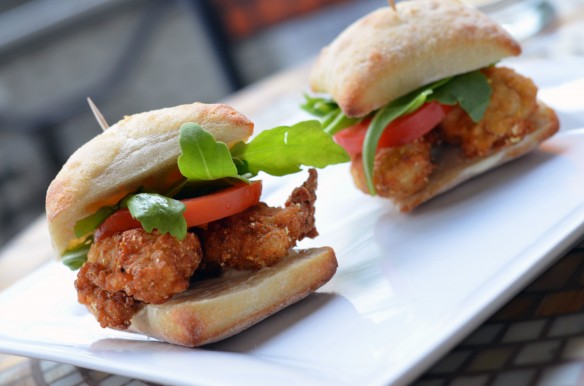 Fried Oyster Sliders
serves 2
Oysters
1/2 cup buttermilk
1 teaspoon sriacha (or other hot) sauce
1/4 cup masa harina
1/4 cup all-purpose flour
2 tablespoons coarsely ground cornmeal
2 teaspoons celery salt
1 teaspoon garlic powder
1 teaspoon onion powder
1 teaspoon smoked paprika
8 oysters, shucked
1 quart vegetable oil
pinch of salt
lemon
malt vinegar
In a small bowl, combine the buttermilk and sriacha.
On a large plate, make the coating by mixing together the masa harina, flour, cornmeal, and all of the spices.
Dip each oyster in the buttermilk mixture then thoroughly cover with the coating.
Heat the oil in a large pot to 375º.
Fry each oyster for about 3 minutes until crispy and golden brown.
Transfer to a plate lined with paper towels.
Sprinkle with salt and a few dashes of lemon juice and malt vinegar.
Sliders
4 slider buns, split and toasted
tomato, sliced
arugula
mayonnaise
Place two oysters on the bottom half of each bun.
Top with tomato slices and arugula.
Spread mayonnaise on the top half of the bun and assemble the slider. Hold together with toothpicks if desired.
slightly adapted from The Eatsy Blog