Harissa Marinated Steaks + "Broccoli Blasted"
I fell in love with harissa cream a few years back but hadn't thought about it in awhile until I saw a recipe for harissa pork chops. We are more steak than pork chop people, but I figured harissa would make a nice marinade for a steak. I ordered a tube from Amazon and plan to come up with some more uses in the next few weeks. The harissa is nice and spicy on the steak, but not overpowering.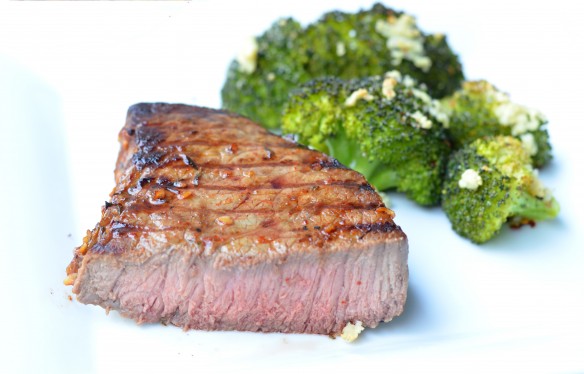 As for the side dish, there is a restaurant we frequent in Bellevue called Black Bottle Postern that has this dish called Broccoli Blasted. We only tried it once on the recommendation of some friends and it was subpar according to them, but in theory broccoli blasted is delicious and serves as the inspiration for our side dish. The broccoli is roasted at a really high temperature, so it gets dark and crispy on the top, almost to where is seems fried. I don't think we did it as well as Black Bottle (next time I think I'll add some butter), but it's definitely a great way to eat your greens!
Harissa Marinated Steaks
serves 2
2 tablespoons olive oil
1 tablespoon soy sauce
1 tablespoon Worcestershire sauce
1 tablespoon harissa paste
2 cloves garlic, pressed
2 tablespoons fresh thyme
1 lb sirloin steak
Mix together the first 6 ingredients in a small bowl.
Thoroughly rub the marinade over both sides of the steak and place in a covered baking dish or a large plastic bag.
Let the steak marinate in the refrigerator for at least 3 hours (flip half way through).
Heat up grill and cook until desired doneness is achieved.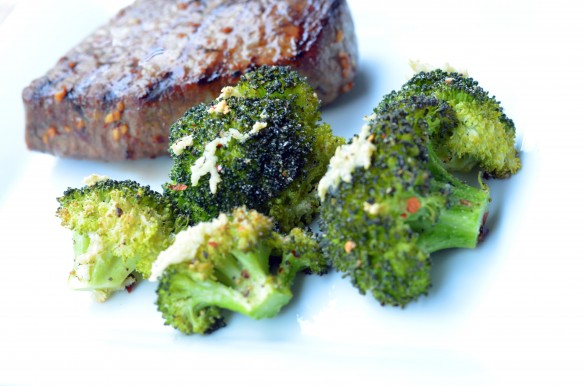 Broccoli Blasted
serves 2
1 head of broccoli, florets only
1 tablespoon olive oil, misted over the tops
1 teaspoon granulated garlic
salt
pepper
sprinkling of red pepper flakes (if you'd like a little kick)
3 cloves garlic, pressed
Preheat the oven to 450º.
Spread broccoli florets on a large baking dish and mist with olive oil. Roast for 15 minutes.
Remove from oven and sprinkle with spices. Then carefully rub pressed garlic on tops.
Roast for another 8-10 minutes until broccoli is very dark and almost burnt in color.