Heirloom Tomato Galette
We bought these gorgeous, colorful heirloom tomatoes from the grocery store, and what better way to showcase them in all of their glory than to make a savory tart with them. This is why I love summer!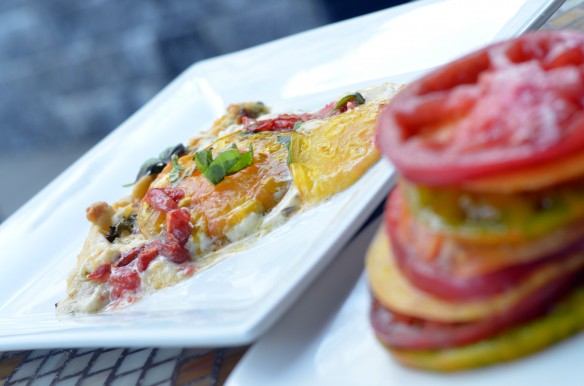 I debated whether or not to bake the tart in a pie pan since I don't own a specific tart pan, but decided to make it a galette instead and go free form. This was probably the first mistake.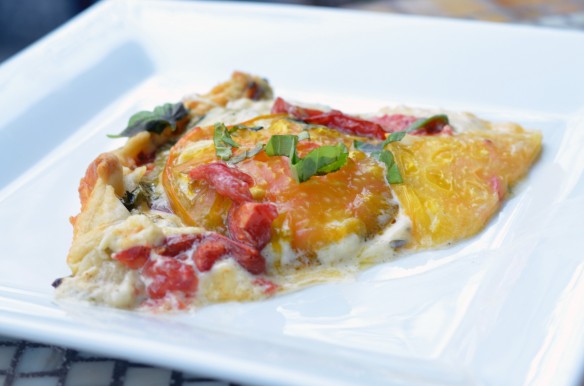 The second mistake was not leaving enough room around the edge to create the galette's crust. We had some cheese spillage in the oven, and the whole experience reminded me very much of the first time we tried to make a homemade pizza back at our apartment in Houston where we couldn't get it out of the oven without falling apart. We ended up eating a giant calzone instead.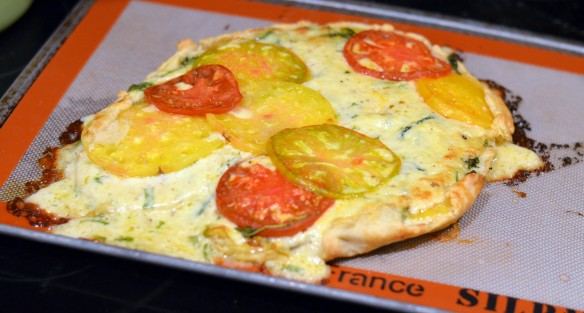 Even though this is far from the prettiest thing to come out of our kitchen, the juicy tomatoes sitting atop a cream cheese sauce and flaky pie dough are too good to pass up sharing. And if you learn from my mistakes, you can have a perfect tomato pie!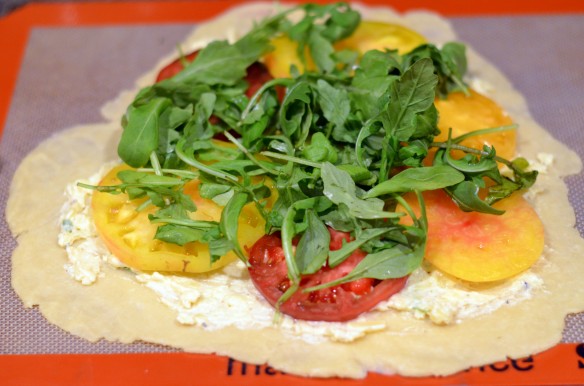 Heirloom Tomato Galette
Crust
1 cup flour
1/4 teaspoon salt
1/4 teaspoon sugar
6 tablespoons unsalted butter
3 tablespoons + 1 teaspoon ice cold water
Combine the flour, salt, and sugar in a food processor.
Pulse in the cubes of butter until the mixture is crumbly.
Slowly add in the water and process until a dough forms.
Form into a ball, wrap in plastic wrap, and refrigerate for at least 30 minutes.
Let come to room temperature before rolling out to 1/4" thick circle on a lightly floured surface.
Transfer to a baking sheet lined with parchment paper or a silicone baking mat.
Filling
6-8 heirloom tomatoes in different colors
2 teaspoons salt
1/2 cup mayonnaise
1/2 cup cream cheese, softened
3 cloves garlic, crushed
1/4 cup basil chiffonade
1/2 cup grueye cheese, freshly shredded
1/2 emmentaler cheese, freshly shredded
1 cup arugula
1 egg, lightly beaten
Slice the tomatoes 1/4" thick. Sprinkle with salt and lay on paper towels. Let rest for 30 minutes and then dab with paper towels to remove all excess water.
In a medium bowl, whisk together the mayonnaise, garlic, and cheese.
Place a layer of the mayonnaise/cream cheese mixture in the middle of the galette (leaving 3/4" edge).
Place on a layer of tomatoes, followed by the arugula.
Add the rest of the mayonnaise/cream cheese mixture to the top, followed by another layer of tomatoes.
Fold the edges of crust onto the middle over the mixture.
Brush egg over the edges.
Bake for 20 minutes.
adapted from Williams Sonoma