Peanut, Butterscotch & White Chocolate Oatmeal Cookies
When I read about these honey roasted peanut and butterscotch cookies from Averie Cooks I couldn't get that flavor combination (or those pictures) out of my head. So I decided to recreate them in my own kitchen and add a little of my own flair to them— oatmeal and white chocolate chips.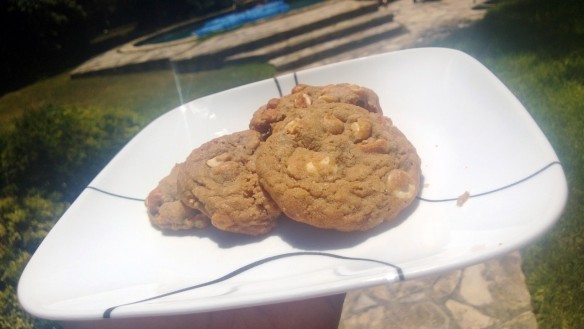 There's not really enough oatmeal to qualify them as a typical oatmeal cookie in terms of texture, but the flavor and a little bit of chewiness is there, plus it goes really well with the all of the mix-ins. This cookie is really a mouthful to say the least.
I baked them up the night before Dustin flew to San Antonio. There's no way I could send him to see his parents without some sort of baked good in his possession. I also had to bake them a little longer than I would have ideally liked if I was baking them all for myself, so they'd stand up to traveling on a plane all the way to Texas. No worries, because I under-baked the first batch and kept those for myself and friends to eat while he was gone! Unfortunately, we don't have any great pictures of these cookies because I was totally a goof and forgot to take a picture of my final product, so I had Dustin snap a picture with his phone for me before he left (he does always brag about how awesome the camera on his Windows Phone is...). However, they were too delicious not to share. I will have to remake them sometime and update the post with a decent picture that does them justice. Until then, you should look at the original post because if that doesn't convince you to make these cookies, then I'm not sure what will!
Peanut, Butterscotch & White Chocolate Oatmeal Cookies
yields ~2 1/2 dozen cookies
3/4 cup unsalted butter, room temperature
3/4 cup light brown sugar, packed
1/4 cup granulated sugar
1 large egg
2 teaspoons vanilla extract
1 1/3 cups all-purpose flour
2/3 cup instant oats
2 teaspoons cornstarch
1 teaspoon baking soda
1 1/2 teaspoons cinnamon
1/4 teaspoon salt
1 cup butterscotch chips
3/4 cup white chocolate chips
1 cup honey roasted peanuts
Cream together the butter and sugars in a large bowl.
Add in the egg followed by the vanilla extract, continuing to beat until smooth.
In a separate bowl, mix the flour, oats, cornstarch, baking soda, cinnamon, and salt.
Slowly add the dry ingredients to the wet ingredients, mixing until just incorporated.
Fold in the butterscotch, white chocolate chips, and peanuts.
Chill the dough in the fridge overnight.
When ready to bake, preheat the oven to 350º and line baking sheets with parchment paper or silicone baking mats.
Using a medium-sized cookie scoop, scoop balls of dough onto baking sheets.
Bake for 8-1o minutes, depending on how soft you would like your cookies.
Cool on the baking sheet for 5 minutes then transfer to a wire rack to finish cooling.