Rosemary Lemonade
I am totally smitten with the idea of adding herbs to lemonade. In the recent weeks I've sampled both mint and rosemary lemonade at different restaurants, and now I will never hesitate to order an herbaceous lemonade. Out of all of our herbs (that sadly do not get enough of our attenion...it's all going to Bonnie instead), rosemary has been the heartiest this year, so that's what I used in this crisp and refreshing lemonade. I'll definitely be trying other variations next time we grow buy a fresh herb garden.
First, I made a simple syrup and steeped rosemary in it as if I were making tea. Then I stirred in fresh lemon juice (an electric juicer is a magical tool for this purpose), diluted it with water, and had the perfect drink for a lovely evening of al fresco dining (or catching up on True Blood, marathon-style). I purposely made it not overly sweet (relatively speaking for lemonade, of course), so you can really focus on the rosemary essence of the drink.
Personally, I prefer my rosemary lemonade sans liquor, but Dustin can vouch that vodka is an excellent addition if you wanted to switch this libation from the non-alcoholic to the 21+ kind.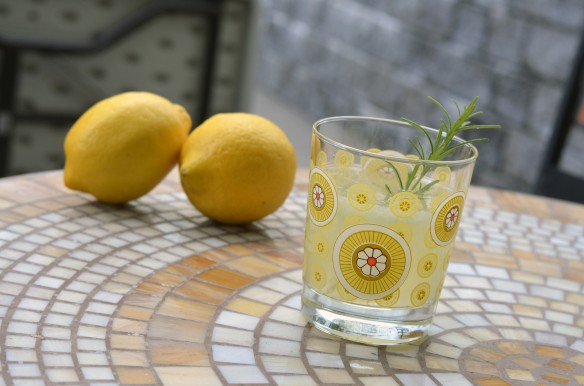 Rosemary Lemonade
serves 6
1 cup sugar
1 1/2 + 4 cups water, divided
4-5 sprigs fresh rosemary sprigs + more for garnish
1 cup lemon juice, freshly squeezed
Combine the sugar and 1 1/2 cups of water in a medium sauce pan over high heat, stirring constantly until the sugar dissolves, and you've made a simple syrup.
Remove from the heat, place rosemary sprigs in the pan and cover. Allow to steep for half an hour before removing rosemary.
Combine the simple syrup, lemon juice, and remaining water. Stir well.
Chill in the fridge or serve immediately over ice. Garnish with fresh rosemary.