S'mores Cookies
You know the saying "you learn something new every day." Well here is your fun (and tasty) fact of the day...every August 10th, the United States celebrates National S'mores Day.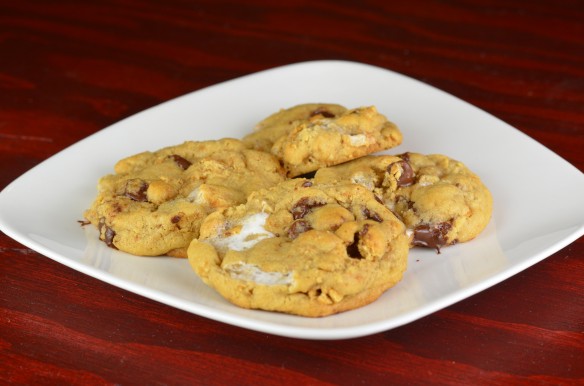 S'mores cookies and s'mores cookie bars have been all over the internet. I wanted to make my own version using smoked chocolate chips because what's anything s'more related without a smoky flavor that regular chocolate chips or mini Hershey's bars can't provide without a campfire's assistance. I used cornstarch and an extra egg yolk to keep them soft and melted butter to keep them chewy. Chilling the dough overnight is also a requirement to keep them from spreading too much during baking.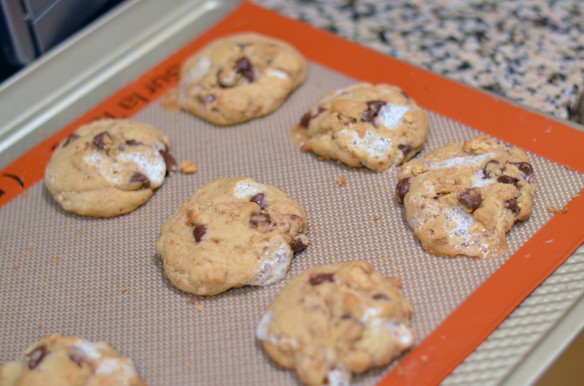 These cookies were an ooey-gooey success. For the sake of experimentation, I used both cake and bread flour since I had them both around, as is done in the New York Times Perfect Chocolate Chip cookies, but you can definitely stick with all-purpose for both. Mixing the two flours with different proteins (bread flour is higher than all-purpose; cake flour is lower) should in theory give you a better texture than using regular all purpose flour.
Chocolate, marshmallows, and graham crackers all come together to make the perfect summertime cookie, no camping required! Best enjoyed fresh from the oven for ultimate ooey-gooeyness!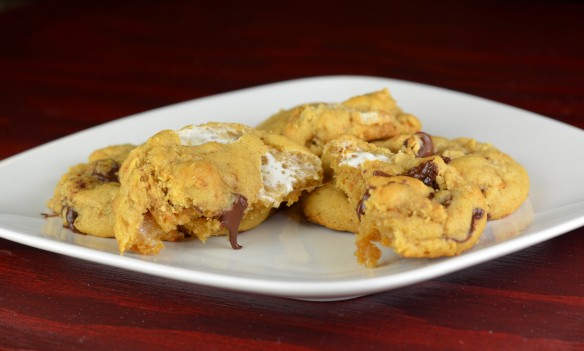 S'mores Cookies
yields 2 1/2 dozen cookies
3/4 cup butter, melted
2/3 cup brown sugar
1/3 cup granulated sugar
1 egg + 1 yolk
2 teaspoons vanilla
1 1/4 cups cake flour
3/4 cup bread flour
1 1/2 teaspoons cornstarch
1 1/2 teaspoon baking soda
1/2 teaspoon salt
1 cup cinnamon graham cracker, crumbled
1 cup smoked chocolate chips
1 cup mini marshmallows
Cream together butter and sugars in a large bowl.
Add in the egg and yolk, one by one, mixing in between. Add in vanilla.
In a medium sized bowl, sift together the flours, cornstarch, baking soda, and salt.
Slowly add the dry mixture to the wet mixture and mix.
Fold in graham cracker crumbles, chocolate chips, and marshmallows.
Chill in the fridge overnight.
Preheat oven to 350º. While oven is preheating, line baking sheets with parchment paper or silicone baking mats and remove the dough from the fridge to slightly soften.
Use a cookie scoop to portion out 1 1/2 teaspoons of dough into a ball on the mat.
Bake for 8-9 minutes. Cookies should look slightly undrerbaked.
Let cool on baking sheet for 5 minutes before transferring to wire rack.