Strawberry Freezer Jam
One of the things I really wanted to do while I had the free time was to buy a book on jarring and canning, so I could learn to make my own jams, jellies, and other preserves, especially while we lived in such an area with great summer produce. Well, that time has come and passed as we are crazy with the move, and I will be starting graduate school in just over a month (eek!). Unfortunately, I was unable to accomplish this goal off my cooking bucket list while we still lived in Washington; however, I was able to cram in making this strawberry freezer jam before we headed out of the state, which doesn't really involve too much work, so I don't think it counts as mastering the art of making jam. All you basically do is mix fruit, pectin (another of my impulse buys at Safeway), water, and sugar together and then let it set. No cooking with heat, special equipment or technique.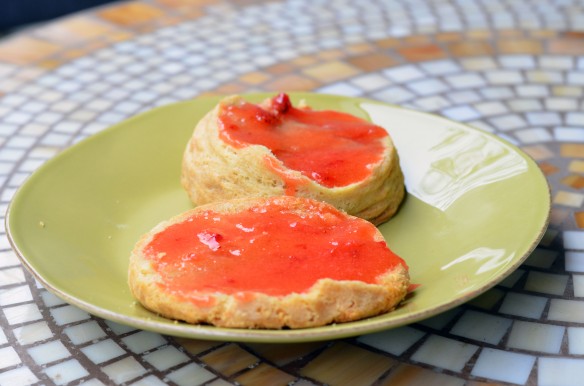 Then you store the freezer jam in the freezer until winter comes around, and you have the bright taste of summer (or if you want to eat it immediately as someone in our situation would, it lasts in the fridge for 3 weeks). Freezer jam is definitely texturally different than traditional jam— a little thinner and runnier. But all we care about is the deliciousness, and this jam passes the the sweet, sweet test!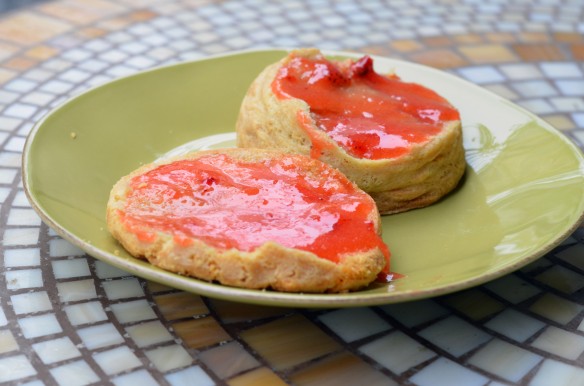 Seen here on delicious buttermilk biscuits from the bakery!
Strawberry Freezer Jam
4 cups strawberries
4 cups sugar
3/4 cup water
1 package powdered fruit pectin
Mash the strawberries with a masher.
Place the mashed strawberries in a large bowl and cover with sugar. Let the sugar and strawberries stand for 10 minutes, stirring occasionally.
Mix pectin and water and bring to a boil, stirring for 1 minute.
Pour pectin mixture over strawberries and stir for several minutes. Pour into jars (I used 3 mason jars) leaving about 1/2" at the top.
Let stand at room temperature for 24 hours until set. Then store in the fridge for up to 3 weeks or the freezer for 6 months.
from Sure-Jell