Triple Nut Rocky Road Ice Cream
Confession: I have never had rocky road ice cream. At least I hadn't until I made my own. For some reason as a child, rocky road never jumped out to me. My first choice at Baskin Robbins and the grocery store was always rainbow sherbet. Not just because it was pretty, but also tasty. As I got a little older I "graduated" to chocolate chip cookie dough ice cream and occasionally mint chocolate chip or cookies and cream, but I wasn't even 100% sure of what was in rocky road until embarrassingly recently. I knew about the marshmallows, and I knew there were nuts. I knew it was a chocolate base. However, I didn't know if that was all (it was), and I wasn't sure what kind of nuts were used. It turns out there is not a clear consensus on what kinds of nuts are to be used, so I wasn't too far behind in my knowledge of rocky road. From what I can tell almonds are most commonly used, but basically any other kind of nut can be used as well. We had three kinds of nuts in the cabinets, and I couldn't decide which I should used, so I did what any person in that situation would do. I used all three.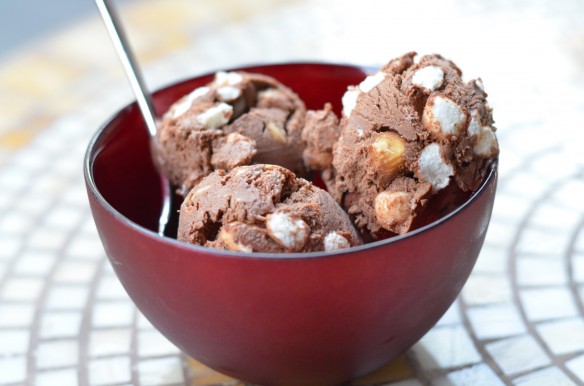 Dustin claimed it was the best rocky road he'd ever had. I wouldn't know since I've never tried it before, but if all rocky road is this good, I was definitely missing out as a kid.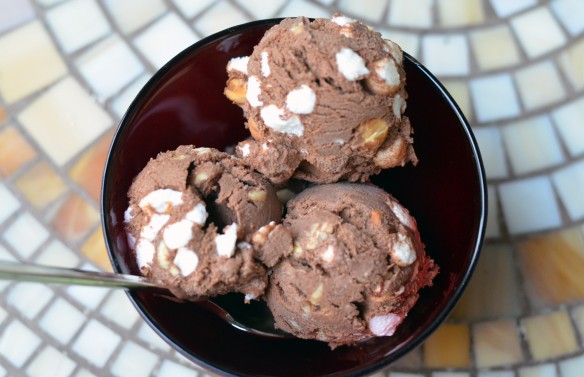 Triple Nut Rocky Road Ice Cream
2 cups heavy cream, divided
3 tablespoons unsweetened cocoa powder
5 oz. bittersweet or semisweet chocolate, coarsely chopped
1 cup whole milk
3/4 cup sugar
1/4 teaspoon salt
5 large egg yolks
1/2 teaspoon vanilla extract
1 1/2 cups miniature marshmallows
1/3 cup honey roasted peanuts, coarsely chopped
1/3 cup toasted hazelnuts, coarsely chopped
1/3 cup toasted pecans, coarsely chopped
Heat one cup of cream in a medium saucepan over medium high heat, and stir in the cocoa powder until dissolved. Bring to a boil then reduce to a simmer and cook for about a minute, whisking constantly.
Add in the chopped chocolate and stir until smooth. Add in the remaining cream and transfer to a large bowl.
In the same saucepan, combine the milk, sugar, and salt over medium heat.
In a small bowl, whisk the egg yolks together. Then very slowly and carefully add half of the milk mixture to the yolks, stirring constantly.
Add the milk-yolk mixture back to the saucepan, stirring constantly until the mixture thickens. Remove from heat.
Pour the custard mixture through a sieve into the large bowl with chocolate-cream mixture.
Add in the vanilla extract and stir.
Allow the mixture to come to room temperature then cover with plastic and allow the mixture to sit in the refrigerator overnight.
Process in an ice cream maker according to manufacturer's instructions. In the last five minutes of churning add in the marshmallows and nuts.
Transfer to a freezer-safe container and freeze until desired texture is reached.
slightly adapted from The Perfect Scoop by David Lebovitz; yields 1 quart