Truffle Crab Macaroni & Cheese
We really like truffle oil. Like a lot. Unfortunately, truffle oil is crazy expensive. We spent $14 on a tiny bottle according to the price sticker remaining on the bottle. We still had half a bottle to use up before the move, so on a whim I added it to the crab macaroni and cheese I was making. We were already going fancy using Dungeness crab, so why not make it double fancy?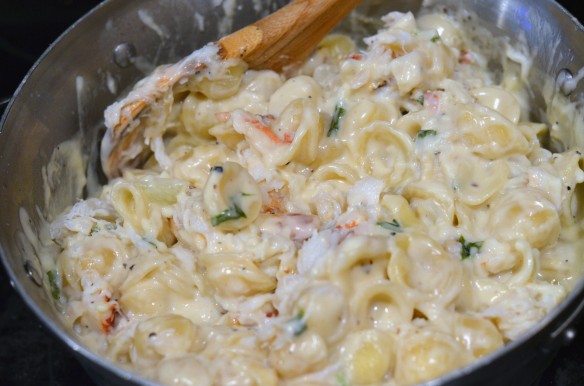 I've been thinking about making a homemade version of the crab mac and cheese dish I really enjoyed at a Seattle area bar and grill. I figured I should make it before we left since I assume Dungeness crab meat should be slightly cheaper in Seattle, closer to the source, than Los Angeles. Maybe it's a little cheaper, but man Dungeness crab is expensive. But it's so sweet and not overly salty like some crab. Since I was buying so much at the store, the fish guy gave me a sizable sample to taste. So good.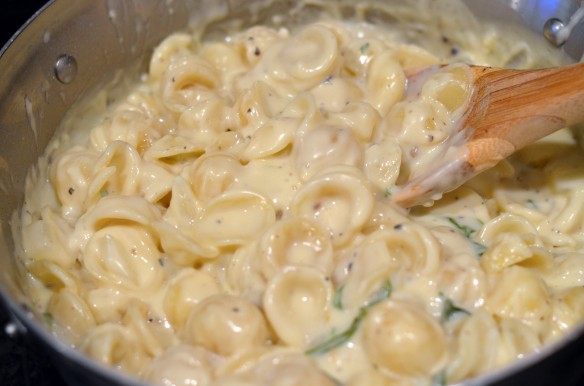 The original I was basing this recipe off of uses fennel, but I didn't see any at the grocery store during my quick trip, so I decided to add flavor using truffle oil and my favorite herb of all, basil. The original also uses a mixture of mascarpone, goat, cheddar, and swiss cheese. I used all of those cheeses except I replaced swiss with gruyere. Thanks to the mascarpone, this was by far the creamiest mac and cheese I've ever made— so indulgent. Definitely best served with a simply dressed side salad to cut down on calories.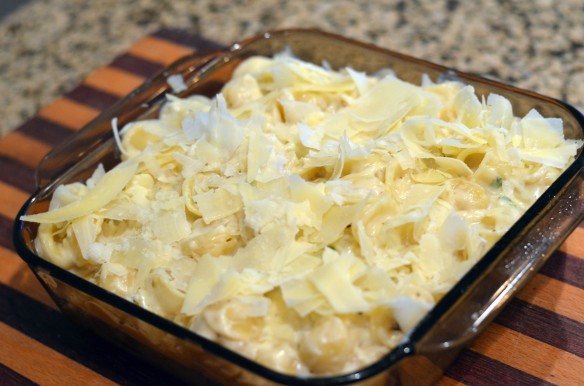 Also what's up with our Trader Joe's not selling macaroni pasta? Instead I had to buy orrachetti. It tasted all the same, but looked a little weird for mac and cheese. Additionally you can add breadcrumbs to the top if you want some crunch, but I didn't have any and actually think it tasted better without.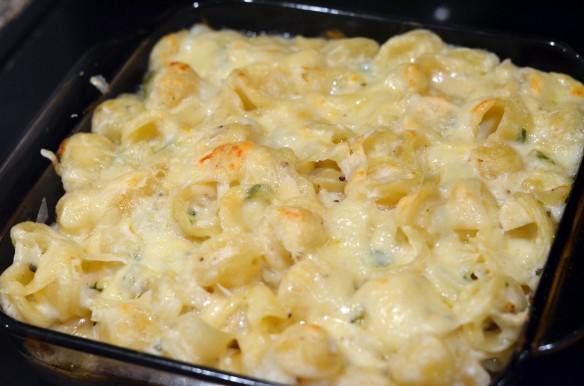 Truffle Crab Macaroni & Cheese
serves 4
1 pound macaroni pasta
2 tablespoons unsalted butter
1/2 yellow onion, diced
2 cloves garlic, minced
2 tablespoons flour
1 1/2 cups milk
1/2 cup cheddar cheese, freshly grated
1/2 cup gruyere cheese, freshly grated
5 ounces goat cheese
5 ounces mascarpone cheese
salt, to taste
pepper, to taste
1 tablespoon truffle oil
1/2 pound crab meat
1/2 cup parmesan, shaved
1/4 cup basil, chiffonade
Preheat oven to 350º and spray an 8"x8" baking dish with cooking spray.
Bring a large pot of water to boil and cook pasta to al dente (about 2 minutes less than what the package calls for).
While cooking the pasta, heat the butter in a large, wide saucepan over medium-high heat. Cook the onion and garlic for several minutes until fragrant.
Add the flour and create a roux.
Slowly pour in the milk and allow the mixture to thicken, stirring constantly.
Stir in the four kinds of cheese until smooth.
Season with salt, pepper, and truffle oil.
Drain pasta and add to cheese sauce pan. Coat all pasta with sauce.
Gently fold in the crab meat along with the basil. Pour into baking dish.
Sprinkle parmesan over the top.
Bake for 20-25 minutes and then broil on high for a minute or two, or until the top is barely browned.
Allow to sit for 5 minutes before serving.