A Perfect Day in LA
We started out one gorgeous Saturday with a loose plan for the day, including brunch and a comedy show, but by the time the day was over, I realized we had unintentionally had a pretty quintessential LA day, hitting many locations and landmarks that would be pretty perfect for someone in town with only a day to explore. So without further adieu, here's what we did...
First we ate brunch at The Tasting Kitchen on Abbot Kinney, a hip area with a great art and food scene in Venice. The Tasting Kitchen is a little pricey, but you get really great food in exchange for the money. The menu isn't that large, but it was incredibly difficult to decide what to order. Finally, I decided upon the chicken and waffle while Dustin decided upon the short rib hash with a baked egg. We'll definitely have to come back to try the fried oyster egg dish, the duck confit scramble, the eggs in a basket and more. Dustin's short ribs were succulent and melt in your mouth. The fried chicken was crisp, not greasy, and served alongside the best basic waffle I've ever had. Usually, when I order a waffle, every few bites I am adding extra maple syrup to the top because it has absorbed into the waffle and you can no longer taste it. What was so impressive about this fluffy waffle is that they served the maple pre-poured and I didn't even mind because the syrup stayed in the waffles ridges and was the perfect syrup to waffle ratio in every bite. Dustin got mad at me for not ordering the waffle stuffed with bacon, but that's just inspiration for us to make our bacon-stuffed waffles at home! I'd also like to come back for dinner sometime, so as you can imagine we'll probably be back to The Tasting Kitchen many more times. Highly recommended.
From the restaurant, we walked over to Venice Beach (to burn off some of our brunch) and saw the beautiful white sands. We then walked down Ocean Avenue for some good free fun and saw all that is the culture of Venice. It's such a great place for people watching. There are all sorts of wacky people walking around, performers doing their trade, people working out, and vendors selling trinkets of all kinds (but were surprisingly not pushy and obnoxious). You could even head all the way to Santa Monica pier if so desired, but we opted to save that for another day.
Following our time in Venice, we headed over to Beverly Hills. We were actually going to pick up the desk we ordered, but if you were a tourist, you would definitely want to stroll Rodeo, shop the fancy stores (if you are lucky enough to be able to afford them), and ogle at the seriously amazing cars that cost more than most homes. We stopped by Beverly Hills Brownie Company— a nice change from the cupcake craze— for one of their decadent brownies (we ordered the cookies and cream flavor). They were quite good, but we've become spoiled with homemade desserts that Dustin proclaimed they were on par with anything I make at home.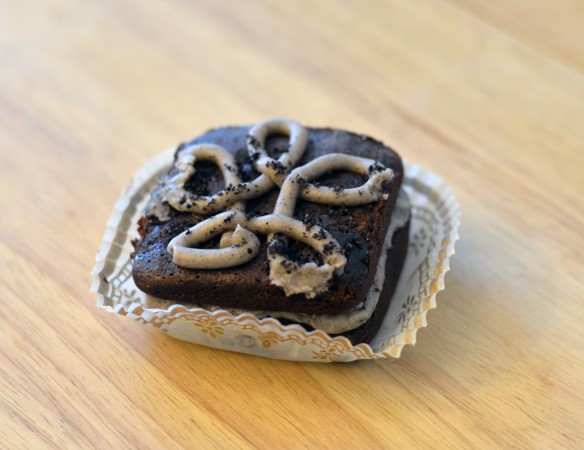 Early in the evening, we drove into downtown LA where you can explore a bit if so desired and grab a bite to eat. We ate at The Parish— a Los Angeles twist on an English style gastropub with a nice, dark and moody ambiance. The Parish has a great craft cocktail menu (Dustin got a killer gin and tonic that I would have even drunk, and I don't care too much for gin) and small plates. We ordered the fried olives and chickpeas (more chickpeas than olives, but very nicely seasoned with Moroccan spices), the flatbread with ricotta, honey, hazelnuts and rosemary (very tasty), the fried oyster poutine (good but not executed as well as I think it could have been...the gravy was a little weird and there was no cheese), and the octopus with grilled peaches and a delicious cumin yogurt (probably my favorite dish of the evening with a really nice texture, not weird and chewy like octopus tends to get).
From downtown we headed over to Hollywood where we were lucky enough to get amazing, free parking. We strolled down Hollywood Boulevard, viewing the stars and passing by sites like Grauman's Chinese Theater (where all the handprints are) and the Dolby Theater (formerly the Kodak theater), home of the Oscars. It was fun seeing this area lit up at night, brimming with tourists, much like Times Square in New York. We ran into a few sketchy people in the area at night, so this is definitely not a place I'd recommend going solo.
We were just walking Hollywood Boulevard to kill some time before our comedy show at the Upright Citizen Brigade Theater. We saw a show called 'Before You Were Funny' where comedians read sketches and things they had written early in their careers that are so bad they are funny (it's actually recorded as a podcast, so you can listen to past shows here). This appears to be a monthly show they do, rotating comedians. We were fortunate enough to see Dan Harmon, creator of the show Community. The entire show was hilarious, and you can bet we will be going back to UCB! If it were a little closer to our apartment, you can bet it would practically be a weekly stop for us. Tickets were only $10 (some shows are less or are even free), and they have several different shows a night. The crowd was really young, full of people in their 20s (perhaps because we were at the late 10pm show?), and the atmosphere was great. Another highly recommended thing to do in LA.
After the show we were feeling pretty jazzed, so we stopped for late night hotdogs at the legendary LA landmark, Pink's. I warned Dustin the line would be long, even past midnight (we waited about 45 minutes), but we had nowhere to be, the weather was nice, and we were reveling in enjoyment from our comedy show. Pink's isn't high class food or the best hot dog you'll ever eat, but it's been around so long and so many celebrities have graced that little building, you feel like you are eating a piece of history and really experiencing LA. And after all the smells you get while waiting in line, you will definitely be ready to eat– we each got different versions of chili cheese dogs, but they have all sorts of interesting and indulgent dog choices for every taste. We sat inside and looked at all the autographed headshots before heading home, ready to crash after our long and exciting day.