Chocolate Chip Butterscotch Pudding Cookies
Today begins the first in a series of posts that documents the several day journey I took to make the dessert for our going away party. I'll give you hint as to what it was (in case you weren't there)— it involved cookies. Lots and lots of cookies! Stick around for the next 3 days to see how it all comes together!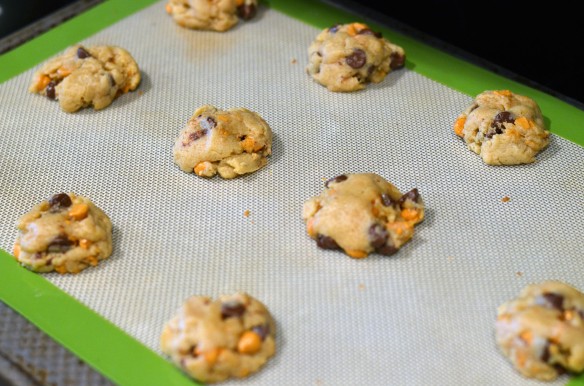 Instant pudding mix seems like a weird ingredient to add to cookies, but it really works at keeping them soft, puffy, and tasting fresh for days. You know when you are trying a new cookie recipe because the picture looks amazing, and then you pull the first batch out of the oven, and they look, well, sad and deflated? I dare say that won't happen when the recipe includes instant pudding mix. Something about it seems to give you perfect looking cookies, like the ones you see on Pinterest. I feel like using pudding mix is kind of cheating, and I really don't like including a highly processed ingredient like that in my baking, but it was a fun experiment, especially when I was looking to make soft, chewy cookies that weren't about to fall apart when I picked them up off of the baking sheet.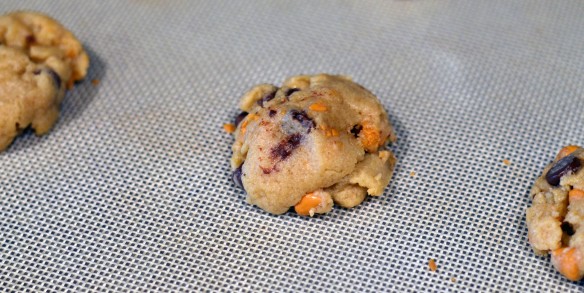 Butterscotch keeps these cookies from becoming boring chocolate chip cookies, and in my opinion, are a welcome addition to just about any cookie! Sorry there are no final cookie pictures, but apparently I forgot to snap some as I was busy making dozens and dozens of cookies. However you will see some final products in a couple of days, so check back!
Chocolate Chip Butterscotch Pudding Cookies
yields ~3 dozen cookies
3/4 cup butter, softened
2/3 cup brown sugar
1/3 cup granulated sugar
1 large egg + 1 yolk
2 teaspoons vanilla
2 cups all-purpose flour
3 tablespoons instant vanilla pudding
1 1/2 teaspoon baking soda
1/2 teaspoon salt
3/4 cup semisweet chocolate chips
3/4 cup butterscotch chips
Cream together the butter and sugars in a large bowl for 2-3 minutes until light and fluffy.
Beat in the egg and the egg yolk, followed by the vanilla.
In a medium bowl, sift together the flour, pudding mix, baking soda, and salt.
Slowly add the dry mixture to the wet mixture, mixing until just combined.
Fold in the chocolate and butterscotch chips.
Cover with plastic wrap and refrigerate at least 2 hours or overnight.
When ready to bake, line baking sheets with parchment paper or silicone baking mats and preheat the oven to 350º. Remove dough from fridge to soften for 15 minutes if chilled overnight.
Use a medium cookie scoop to scoop out balls of dough and flatten slightly on the baking sheet. Bake for approximately 9 minutes, or until edges are set and centers appear slightly underdone.
Cool on the pan for 5 minutes before transferring to a wire rack to finish cooling.
Instead of a final cookie pic, you can just look at this picture Dustin snapped of me and Bonnie in the new apartment, sharing a chair. I love my sweet little puppy!