Chocolate Chip Cookie Dough Ice Cream
It's finally here! Even though the quarter officially began a few days ago, today marks my first days of classes as a graduate student (update: my one Thursday class isn't starting 'til next week). I am both incredibly excited and incredibly nervous. The past few months have been so busy and full of change, and now here is the payoff, a new routine and new challenges.
As I mentioned yesterday, Dustin was gone for most of my time in LA leading up to this day, so I often sat on the couch by myself in this new city freaking out a bit. I feel like this whole experience wouldn't be complete without a few emotional breakdowns. Did I make the right choice? Will we be happy here? "Only time will tell, so stop worrying yourself sick," the rational side of my brain explains to the crazy, emotional side. I'm sure we'll be happy here as I start this new adventure. I know this experience will be what we make of it, but it can be so hard to shut the crazy side of my brain out when things get a touch overwhelming.
So what's an emotional girl supposed to do when she is feeling overwhelmed? Break out the cookie dough! Good thing I have a whole cookbook for recipes utilizing just that!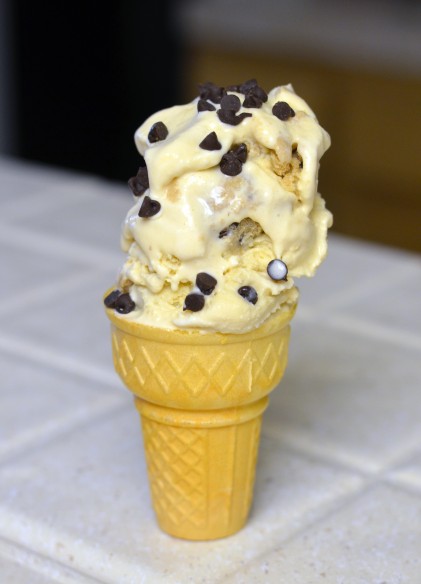 With temps in the 90s and my all-time favorite ice cream being chocolate chip cookie dough, I figured that would be the perfect comfort food to make for myself. It's surprising that it's taken me this long to make! I knew Dustin wouldn't be too disappointed missing out on this dessert, seeing as he isn't the crazy cookie dough lover that I am. The only change I'd make to the ice cream next time would be to add at least 1/2 cup chocolate chips, which I'll include in the recipe below. I'm not sure why the original recipe from the book didn't have chocolate chips as an ingredient because I'm pretty sure that's common, or at least there were both chunks of chocolate chip cookie dough and chips in the Blue Bell version I would always eat growing up. I really like the subtle cookie in the flavor in the ice cream itself from the brown sugar instead of super simple vanilla. I ate way too much of this while Dustin was gone (but I tried to eat relatively healthy other than the ice cream to balance it out).
Despite how I may have sounded earlier, don't worry too much about me. Even though I had a couple of rough moments while Dustin was gone, most of the time I was getting stuff accomplished, attending meetings, and ramping up the excitement to get my first quarter of classes and first year research project underway! Cookie dough helped make everything feel a little better out here by myself— kind of like a giant food hug.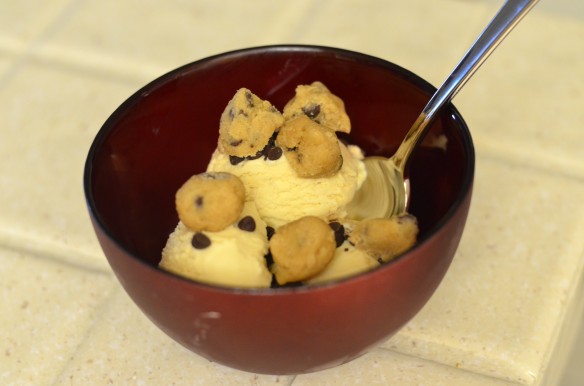 Chocolate Chip Cookie Dough Ice Cream
yields 1 1/2 quarts
Ice Cream
2 cups heavy cream, divided
1 cup whole milk
1/4 cup granulated sugar
1/2 cup light brown sugar, packed
pinch of salt
4 egg yolks
1 teaspoon vanilla extract
1/2 unsweetened cup chocolate chip
1 batch chocolate chip cookie dough (recipe below)
Combine 1 cup heavy cream, milk, sugars, and salt in a medium sized saucepan, stirring frequently until the sugars have dissolved. Mixture should not boil.
In a small bowl, whisk together the egg yolks. Slowly whisk in about 1/4 cup worth of the cream mixture, one tablespoon at a time to temper the eggs.
Add the egg mixture to the saucepan with the cream and milk mixture.
Return saucepan to medium heat and cook for approximately 5 minutes or until the mixture coats the back of a spoon.
Pour through sieve into a bowl with the remaining cup of cream.
Add in the vanilla extract. Mix well.
Cover with plastic wrap and refrigerate overnight to cool thoroughly.
Churn the cream mixture in an ice cream maker according to manufacturer's instructions. Add in chocolate chips and cookie dough during the last 5 minutes of churning.
Transfer to a freezer safe container and freeze for at least 2 hours or until desired consistency is reached.
Cookie Dough
1/2 cup unsalted butter, room temperature
1/4 cup granulated sugar
1/2 cup light brown sugar, packed
1/4 teaspoon salt
1/2 teaspoon vanilla extract
2 tablespoons milk
3/4 cup flour
1/2 cup mini semi-sweet chocolate chips
Cream together the butter and sugars.
Add in the salt, vanilla, and milk. Mix well.
Add in the flour, and mix.
Fold in the mini chocolate chips.
Refrigerate the dough for 30 minutes or until it is easy to handle.
Roll the dough into marble sized balls, place on a parchment paper lined baking sheet, and freeze until ready to use.